About this Property:
Croatia Omis area sea view land for sale with building permit
Croatia Omis area sea view land for sale with building permit has 500 square meters and offers beautiful view of the Adriatic sea.
Land comes with a valid building permit for residential object of 260 square meters that consists of basement, main floor, first floor and roof terrace. It has road access as well as water and electricity connections nearby. Price for Croatia Omis area sea view land for sale with building permit is 67 000 EUR.
Omis, where river meet the sea – located in the heart of Dalmatia, a small town and a harbor situated on the Cetina river, around 25 km south from Split and 40 km from Makarska. The symbol of Omis must be the pirates of Omis, whose ships represented their courage, resistance and strength. You can see the traces of this history anywhere you go, as the churches and fortresses are there as evidence of the power that these pirates had. They were once one of the most powerful pirates on the Mediterranean Sea, ruling the Adriatic for more than three centuries until the whole Dalmatia fell under the Venetian Republic, with one exception of Omis, who managed to defened themselves for 24 years.
LuxuryCroatia.net is Real Estate Agency that has 10 years of experience in sale of all kind of Croatian properties. Our small but dedicated team of experts can search and find your adequate property, if you can't find it in our listings of more than 1500 Croatian properties for sale. We are locals, Croatians, with experience in sales of properties and have visited all Croatian coastal and island destinations and locations, so that we can help you with advice about amenities of location that is of your interest. We know every inch of our country, every village, bay, island, we are proud of Croatian rich heritage and history.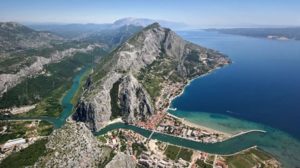 Find your route to Omis here.
Find out more about buying property in Croatia here.