About this Property:
(LB-O-1)
Building land with a fantastic view in Omis area for sale
Building land with a fantastic sea view in Omis area for sale is building land located about 2 km from the town Omis. The size of the land is 1373 m2. The land is facing south and has amazing sea view. The price is 160 000 euros.
This location would be great to build a vacation home. There are a lot of lovely beaches in this area.
More information about location: the town of Omis is located in the heart of Dalmatia, a small town and a harbor situated on the Cetina river, around 25 km south from Split and 40 km from Makarska. Thanks to it's location, the town has good connections with the rest of the world through the airport of Split, and through a new and modern highway. After you've reached Split, a regular bus line can take you to Omis pretty fast. The famous destinations of Croatia, such as Dubrovnik or Zadar are not to far away for you to visit, around 2 to 3 hours in each direction.
The symbol of Omis must be the pirates of Omis, whose ships represented their courage, resistance and strength. You can see the traces of this history anywhere you go, as the churches and fortresses are there as evidence of the power that these pirates had. They were once one of the most powerful pirates on the Mediterranean Sea, ruling the Adriatic for more than three centuries until the whole Dalmatia fell under the Venetian Republic, with one exception of Omis, who managed to defened themselves for 24 years.
Building land with a fantastic sea view in Omis area for sale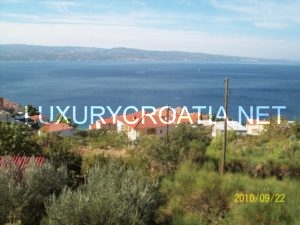 If you would like to know more about buying procedure  please find it here: buying procedure
And about costs and fees please read here: Costs and fees