About this Property:
Completely furnished villa for sale with a nice garden on Ciovo Island
(CF-GA-C1)
Completely furnished villa for sale with a nice garden on Ciovo Island is villa located on the south side of the Ciovo Island. The size of the house is 420 m2 and it has two floors. The size of the land plot is 470 m2. The house consists of 5 bedrooms, kitchen, living room, two bathrooms, a storage, lounge and a laundry room. House is completely furnished and all of the furniture is included in price. The house is south facing and all of the rooms have balconies and terraces. The house is fully air conditioned. In front of the house are parking spaces for up to four cars. There is also a beautiful, spacious garden and a barbecue. In the garden there is also a table and chairs for ten people. There would be enough of space for a swimming pool. House is on a great location, 200 meters from the beach and  walking distance to the town center.
House is close to town Trogir. The  historic city center of Trogir is under the protection of UNESCO since 1997., recognized as a true example of urban continuity, an old town with a number of intact Renaissance and Baroque buildings  and churches from the Venetian period. You can really get a sense of the Mediterranean while sight seeing and wandering the narrow streets of Trogir, sometimes nick-named the town-museum.  Trogir is very well connected with the rest of the Europe through a good air network to  Split's airport. After you've reached Split, you can take a car or a bus, and you are in this beautiful old town within a few hours. You can also come with a boat, coming from the coastal cities of Italy, such as Ancona, Pescara, Bari or Venetia, and if you are coming to Trogir while cruising on your own boat, you will surely find a port for you to anchor in and enjoy, either the ACI Marina Trogir, Trogir Waterfront or on the island Ciovo waterfront.
Completely furnished villa for sale with a nice garden on Ciovo Island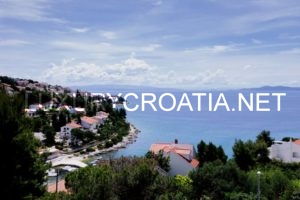 If you want to find out something about Trogir, click here: Trogir
Find out here information about buying property in Croatia – Buying procedure, Costs and Fees