About this Property:
Croatia Trogir Riviera Ciovo sea view villa for sale
Croatia Trogir Riviera Ciovo sea view villa for sale 350 square meters and offer beautiful view of the Adriatic sea.
Villa consists of 4 levels: the main floor, first floor, second floor, and attic. The main floor and first floor are fully furnished. There are 2 apartments on the second floor. The attic is not finished. In total, it has 8 bedrooms and 4 bathrooms. Villa features 4 parking places and a garden. The whole lot size of the villa is 345 square meters big. House is located in a quiet and peaceful place. Price for Trogir Riviera Ciovo sea view villa for sale is 590 000 EUR.
Trogir, Dalmatia's hidden gem is a remarkable small town with 2300 years of tradition, set on a small island on the Adriatic coast of Croatia in the center of Dalmatia. Hiding not so far away from Split, only 27 km, it is connected to the mainland and with another island, Ciovo with bridges. The historic city center is under the protection of UNESCO since 1997., recognized as a true example of urban continuity, an old town with a number of intact Renaissance and Baroque buildings and churches from the Venetian period. You can really get a sense of the Mediterranean while sight seeing and wandering the narrow streets of Trogir, sometimes nick-named the town-museum. There is a lot to see in such  a small place, so keep your eyes wide open while o  bserving what Trogir has to offer, such as a well preserved castle and a tower, palaces and cathedrals from the 13th century.
LuxuryCroatia.net is Real Estate Agency that has 10 years of experience in sale of all kind of Croatian properties. Our small but dedicated team of experts can search and find your adequate property, if you can't find it in our listings of more than 1500 Croatian properties for sale. We are locals, Croatians, with experience in sales of properties and have visited all Croatian coastal and island destinations and locations, so that we can help you with advice about amenities of location that is of your interest. We know every inch of our country, every village, bay, island, we are proud of Croatian rich heritage and history.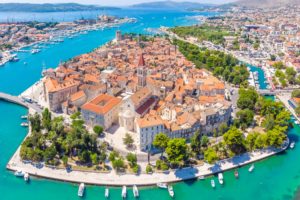 Find your route to Trogir here.
Find out more about buying property in Croatia here.
Read more about this property here Croatia Trogir Riviera Ciovo sea view villa for sale.