About this Property:
Building land plot close to the beach Zadar Nin Vrsi area
This building land plot close to the beach Zadar Nin Vrsi area has size of 1043 square meters b is flat terrain. Land plot has access from the street that that is laid along the land and from another back street car access. This land can be divided into 2 land plots to build 2 villas, each on 500 square meter land.
Land dimensions are 30×35 meters. It is possible to construct two villas, each villa footprint can be 150 square meters, on 3 floors (ground floor, first floor and attic floor). Land is inside construction zone so building villas can start right away, after building permit approved. Land plot is in the quiet neighborhood, surrounded with greenery and has beautiful view of the mountain Velebit. Electricity and water connection is right there on the street next to this land plot. Price for this land is 48 000 EUR.
Beautiful sandy beach with healing mud of Ljubac in Vrsi area is only 4 kilometers away, which is less than 5 minutes by car. Zadar is 10 kilometers away, which is 10 minutes drive. Airport Zadar is 15 minutes drive, and highway is 6 kilometers away. This land plot is very well located and very cheap.
Zadar is a beautiful, 3000 years old centre of North Dalmatia, resting on the coast of the Adriatic sea that will give you an opportunity to testify its vivid history and enjoy the contemporary aspects of its culture today. Zadar evolved a lot through the years, transforming itself from a prehistoric settlement to an Illyrian village to a Roman municipality and surviving other transformations until it was finally liberated and reunited with the rest of Croatia in 1993. As the Croatian National Tourist Board says, the region of Zadar tells the story of the sources of Croatian cultural heritage better than any book. There are other mesmerising things to see in Zadar. The Sea Organ, situated on the west side of Zadar's riva, appearing to be only a few stairs descending into the sea, whilst hiding the genius engineering that hides under the sea.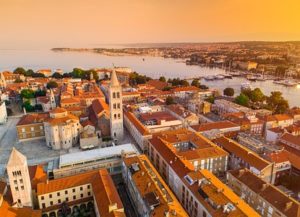 Find your route to Zadar area here.
Find out more about Zadar here.
Read more about this property here Croatia Zadar Nin Vrsi area building land plot close to the beach sale.