About this Property:
Sea view building plot for sale in Croatia Korcula island
We are delighted to offer sea view building plot for sale in Croatia Korcula island, in a wonderful location with a stunning view of the sea. Land enjoys south orientation, and surface area of 800 sq.m.
The best part is very low price for this unique great land plot, it is only 130 000 EUR!
There is a preliminary project for a villa with a swimming pool. Elevated position on the hillside, offers a unique opportunity to build your dream holiday residence or villa with amazing sea views, nested in a greenery, south oriented, in a tranquil surrounding.
Distance from the sea is only 150 m. An asphalted road leads to the land. Necessary infrastructure, water and electricity have been brought to the land. The land is surrounded by a pine forest, Mediterranean greenery and unspoiled nature, with no nearby neighbours to disturb your peace. The land has a slight slope, so there is a beautiful view of the sea, which cannot be obscured by anything. There is no construction under the road. A public path through the nature leads to the sea.
The land is on the edge of a small settlement. To buy groceries, you need to go to the nearby Vela Luka, which is 5 km away, which is a ten-minute drive. Vela Luka is town with a lot of restaurants, bars, supermarkets, banks, gas station and all other amenities for everyday life. The land enjoys the sun all day due to its south orientation and is pleasantly sheltered from cold northern winds in the winter. Plus, there are only a few houses in the area and no one to block the view of the sea. In this area, you will enjoy natural beauty, but also various activities in nature, such as cycling, walking and recreational jogging, exploring hidden bays with beautiful beaches. Korčula is an island that you can cross in an hour drive from Vela Luka to the town of Korčula. Vela Luka is connected to Split daily by ferry and catamaran.
With all these advantages in one place, and a low price, this land is an unbeatable opportunity to buy, and build the perfect villa or residence. This is also good investment opportunity, as villas in tourist rental in this location get income of about 50-70 000 EUR per season, or even more. That depends on villa capacity, design, equipment. If you need advice, you are at the right place, we are also specialist for renting luxury villas. We can provide all info about characteristics of villa for rental purposes, calculate income. We also have a very experienced Project Management team that includes architects, lawyers, construction companies, engineers… so we can make your dream come true.
This is an ideal location to build your second home – so don't delay, and secure your land plot today!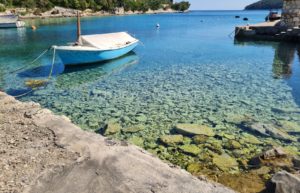 Read more about island Korcula here.
Read more abut this property here Croatia Korcula island sea view building land plot for sale .