About this Property:
Waterfront building land for sale Croatia Korcula island with spectacular panoramic sea view
This could be your reality if you act fast and grab this incredible deal: a waterfront building land for sale Croatia Korcula island with spectacular panoramic sea view, for ONLY 150 000 EUR! . Total size of this extraordinary land plot is 580 square meters of space with 20 meters of seaside frontage and electricity and city water connection ready. You can build your dream villa with 400 square meters of living area on 3 floors, with all rooms facing the sea. You can also rent out your villa to tourists and earn a great income. Our advices and guidance are at your disposal, as we are experienced travel agency specialized in villas rentals. Calculating of possible rental business income, setting the right market prices for your rental property, that is our speciality.
Furthermore, our Project Management Team will help you turn your vision into reality.
Our project management team consists of experienced and qualified professionals who can handle every aspect of your project, from design to construction to supervision. We have a network of architects, engineers, contractors, and suppliers who can deliver high-quality work on time and on budget. We will work closely with you to understand your needs and preferences, and provide you with customized solutions that suit your style and budget. We will also take care of all the legal and administrative procedures, such as obtaining permits, licenses, and approvals.
This land is located in the first line to the sea, enjoying spectacular panoramic sea view close to Prigradica, a peaceful area on the north coast of Korcula, only 1 km away from the nearest village center. There is a local street between the land and the sea, but it's very quiet and there are only a few neighbors around. You can access the sea via stairs and enjoy the rocky shore with a flat plateau for sunbeds.
Imagine waking up to the sound of the waves and the sight of the sparkling sea. Imagine relaxing by your private infinity pool and enjoying the panoramic views of the Adriatic. Imagine exploring the charming villages, vineyards and olive groves of Korcula, one of Croatia's most beautiful islands.
Korcula is known for its rich history, culture and nature. It's called "Little Dubrovnik" because of its medieval old town with stone walls and towers. It's also famous for its wine, especially the white varieties made from pošip and grk grapes. You can easily reach Korčula by ferry from Split or Dubrovnik, or by plane from Zagreb.
Don't let this chance slip away! This waterfront land for sale is priced at ONLY 150 000 EUR, which is far below the real market value. This is a rare opportunity to own a piece of paradise in Croatia. Contact us today and make your dream come true!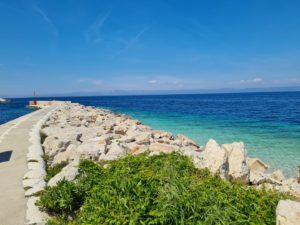 Read more about Korcula island here.
Read more about this property here Croatia Korcula Waterfront building land for sale with spectacular panoramic sea view.