About this Property:
Beachfront Apartment for rent, Vis island
(AP-VK-PR3)
Beachfront Apartment for rent, Vis island is a comfortable tripple bed bedroom apartment located directly at the seafront, so the sea is right bellow apartments window from where is visible great panoramic view of the sea. Apartments consists of one dubble bed and one single bed and the bathroom. Inside this apartment house there is one kitchen available with dishes for meal preparation and it is shared. This shared kitchen features coffee maker and microwave. This beachfront apartment can accommodate 3 guests.
WiFi inside the apartment is available.
In this small settlement on the island there are many beaches and the bigest one is just 600m away from the apartment. All the amenities are within walking distance.
Touristic office is just around the corner and a Fishing museum inside the historical Venetian tower. Nearby there is a fish market with the fresh fish caught and brought in the early morning and other shops. Along the promenade there are many bars, restaurants and taverns.
On the hill there is saint Nicolas church 1 km away from the apartments, from where is the beautiful view of the settlement.
Amenities: -Turistic office -shops -church 1km -Fishing museum and the Venetian tower -bars -restaurants -beaches
If you are interested in spending active vacations, check our offer here: Excursions, trips and adventure Sports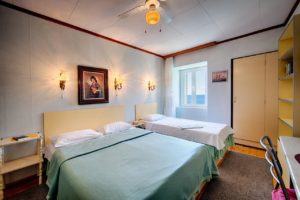 The island of Vis is a small Croatian pearl hiding in the Adriatic sea as the most distant inhabited island from the mainland of Central Dalmatia. The island is a favorite to many who just wish to enjoy their holiday with relaxation, and Vis, still undiscovered by the big masses of tourists, is a perfect destination. It is located in the open sea and was hence a military zone for years, but after this was finished, the island started to come to life and there were many things to show to the outside world.