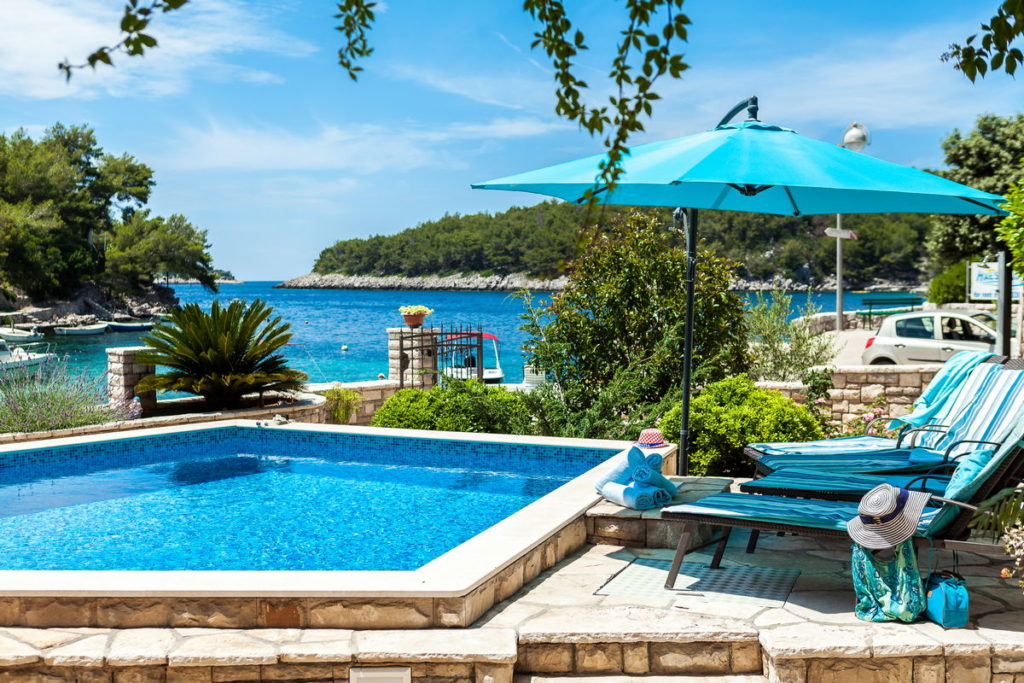 Introducing an Croatia Korcula island beachfront Pool Villa for sale. This remarkable property harmoniously blends opulence, tranquility, and the ultimate coastal lifestyle. Nestled on a sprawling plot spanning nearly 700m2, this villa boasts a prime location just 5 meters from a pristine small pebble beach. Immerse yourself in breathtaking views and enjoy direct access to the crystal-clear waters of the Adriatic. Let the gentle sounds of the waves soothe your senses as you indulge in the coastal paradise right at your doorstep.
Thoughtfully designed across three floors, this villa ensures maximum comfort and enjoyment. The ground floor features a spacious and inviting three-room apartment seamlessly flowing onto a terrace that leads directly to the enticing pool area and beach access. Upstairs, a well-appointed apartment awaits, with four bedrooms, a separate entrance from the parking lot, and a captivating large terrace offering panoramic views of the sea. The attic floor presents an opportunity for customization, allowing you to create your dream space against the backdrop of the azure Adriatic.
Convenience and accessibility are paramount, with a spacious parking lot accommodating up to 3 vehicles in front of the house, along with an additional parking area for 3 more vehicles within the villa's expansive grounds. Seamlessly cater to both residents and guests, ensuring a hassle-free experience for all.
The location of Croatia Korcula island beachfront Pool Villa for sale is truly exceptional, surrounded by lush greenery and offering stunning views of the beautiful bay with its shimmering sea waters. Nestled in a tranquil environment with only a few neighboring houses, it rests in a picturesque bay sheltered from all winds. Embrace serenity and immerse yourself in the natural beauty that surrounds you. Within a minute's walk from the villa, you'll find an excellent restaurant and the convenience of a small supermarket. For larger shopping ventures and exploration, the charming coastal town of Vela Luka is just a short distance away, offering an array of amenities and cultural experiences.
This villa represents an outstanding investment opportunity, generating an impressive annual rental income of over 60,000 euros from tourism. With the potential for further interior enhancements, the profitability can be significantly increased, almost doubling the seasonal revenue. Make a wise investment choice with this villa that has the potential to not only provide a luxurious retreat but also a lucrative financial endeavor.
Seize this rare opportunity to acquire this highly profitable investment. Contact us today to schedule a viewing and discover the unparalleled beauty and charm of Korcula Island. Make a sound investment that promises exceptional returns and creates everlasting memories.
Read more about Korcula island here.
Read more about this property here Croatia Korcula island beachfront villa for sale.