About this Property:
Waterfront villa for sale, Hvar island
(WV-FS-HI)
Waterfront villa for sale, Hvar island is situated in little but magnificent cove on the north side of this beautiful and extremely famous Croatian place. Peace-full and green area is surrounding the villa. Total land plot of this sea view villa is 728m2 and the size of a living area is 258m2. Outside the villa you will find a large, spacious garden full of Mediterranean plant life and trees, a fireplace perfect for summer barbecues and an outdoor shower. There is enough space in front of the villa to built a swimming pool. The villa is divided in four apartments. The road is located behind the villa, between the house and the sea there is no road. For each apartment there is a parking place behind  the villa. Distance from the ferry port is about ten kilometers.
In each apartment you will find two bedrooms, a kitchen with a dining area, a living room with a balcony and a bathroom. Apartments have separate entrances.
The island of Hvar is located in the Adriatic sea in the central part of Croatia's Dalmatia. It is the fourth island by its size, also called the "sunny island" due to the many hours of sunshine in the year, almost 280. The local hoteliers take pride in this, so if it happens that it snows on Hvar, your stay there is for free, however, this is a bet you are sure to loose. Luckily, there is some rain that enables the production of beautiful greens and nature, especially lavander, sage, rosemary, thyme and some vineyards. Lavander actually happens to be one of the symbols and main exports of the island, so make sure to explore this beautiful plant on Hvar. Some of the main resorts on Hvar island are the Hvar town, Jelsa, Stari Grad, Vrboska and Sucuraj.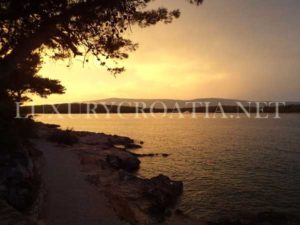 If you want to know something about Hvar island, click here: Hvar Island