About this Property:
Villa with a Private Beach and pool for rent Hvar Island
(RE: V-PE-GH-01)
Villa with a Private Beach and pool for rent Hvar Island is situated directly on the sea, including a private beach, in the bay near Hvar town, on Hvar Island. The bay is located on the western edge of Hvar Town, in the beautiful green scenery of a private national park. We have separate automatic doors inside the park as our entrance and then the road leads to the bay. The bay has only 6 houses in total. Park is a private area and it is not open to other people. No uninvited guest can enter into the park, and not to our property. On this property, your privacy is fully ensured.
The villa was built in white stone, famous stone from Brac and Hvar, in a rustic Mediterranean style. There are in total 5 double bedrooms (10 people), 1 double bed apartment next to the berth (2 people) and 1 apartment for service people.
It contains the following areas:
On the First Sea Level, you will find a beautiful private waterfront jetty built of white Brac stone, measuring 8m x 8m, with two berths for the ships. It is possible to anchor the ships up to 25 m. On the side, there are stairs as an entrance in the sea for swimming. To the right is a little shallow pebble beach for children.
There is a small two-bed apartment No.1 (room 4m x 2m) and bathroom (2m x 2m) with shower and toilet. It can be used for sleeping or as a magazine for things from the beach.
Above the apartment No.1, there is a Level One, seating with cushions and a low table. On the side, there are two wine refrigerators and sink with running water. All equipped with lights to illuminate the Level One, waterfront and the sea for a night landing ship.
On the Second Level is a stone table with 10 chairs – used for outdoor breakfast, lunch or dinner. On the left side, about 15 meters, there is a room with a toilet, bidet and washing machine.
On the Third Level is apartment No.2 and No.3 (double bed, wardrobes, commodes). Each apartment has its own bathroom (toilet, sink, shower). At the same level is a fully equipped kitchen and separate indoor dining room with a table, chairs, cabinet washer and large fridge.
In front of the full length of the house is covered terrace with loungers for relaxation and chilling on the terrace surrounded by colors and scents of Mediterranean plants mingled with a sea breeze.
On the Fourth Level is a large terrace (18m x 6m, of which 3 meters in width is covered) with external chairs and seating bench. Next to the balcony is a terrace with a table for 20 people and a large outdoor fireplace where you can prepare yourself a tasteful fish/meat meal. Interior space of the Fourth Level consists of one living room, 2 double bedrooms (one master bed and the other with two single beds), 1 bathroom with toilet, plus a separate toilet with sink. There is also a small handy kitchen with sink and refrigerator.
The fifth Level is a low loft double bed apartment with bathroom – used for service taking care of the house and the guests.
The whole villa is surrounded by beautiful Mediterranean plants pines, palm trees, divine flowers … Whole green&blue scenery is perfect for total relaxation and a sea view from the whole property is absolutely astonishing. Altogether, we promise you an unforgettable experience.
The price includes a housekeeper and a maid at your service every day to take care of the house – clean the bathrooms, bedrooms, prepare the sun decks… Upon request, it can be procured also a permanent cook or catering service from different town restaurants (at extra cost).
Towels for the private beach are included in price.
Breakfast, lunch, and dinner can be organized at extra cost with a professional chef.
Hvar Town is 2,5 km distance. If guests do not have their own car, they have the possibility of renting one or using owner's Jeep Grand Cherokee (not included in a rental price) for the transport at any time when they want to visit Hvar Town, restaurants and sightseeing. For transport by sea, there are on telephone call taxi boats that will come in the short term to the home dock to drive you to any restaurant on Hvar Island or some other islands, airports, etc.
All other services upon arrangement. If you are interested in a boat trip, daily excursion to other islands or waterfalls on the mainland, tours or other activities, we can organize it for you, check here: excursions.
Price per day for 2020. in Eur:
May, June, September, October: 1600€/day
July and August: 2000€/day
Minimum stay: 3 days
Damage deposit: 1000€ at arrival (returned upon departure if no damage to the villa)
Tourist tax not included in price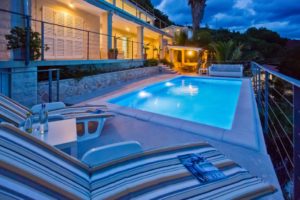 Check out by clicking here: Excursions, daily trips, adventure sports
If you want to know more about Hvar, click here: Hvar
How to get to Hvar island, check on the ferry schedule of Jadrolinija.