About this Property:
Waterfront residence on the island of Korcula
Are you looking for a waterfront residence on the island of Korcula? Look no further. We have the perfect house for you! It's located right on the sea, and it has an amazing view of the water.
The house is located on the south side of the island, which means it has beautiful views of the sea. It's also located in a quiet location with not much traffic, so you won't have to worry about cars driving by at all hours of the day. The house is situated 10 meters from the sea and boat moorings.
The house itself has 5 apartments, an attached garage and room for a boat mooring right in front of it! The total living space for this property is 396 sq.m. and includes 8 bedrooms, 5 kitchens, 5 bathrooms, 4 storage rooms and a garage on its 224 sq.m. plot.
On the ground floor there is an attached garage with one-room apartment (57 sq.m.). On the first floor there are two apartments (115 sq.m.), 2 balconies and 2 storage rooms. On the second floor there is a three-room apartment with terrace (146 sq.m.) as well as 3 storage rooms. In addition to these apartments, there is also an attic floor apartment with calculated area of 78 sq.m. This apartment has loggia where you can enjoy in astonishing sea views. There is additional separate room with barbecue and a terrace on this attic floor. House is selling fully furnished.
All apartments are air-conditioned.
If you have a boat and like to spend time on the water, then this is the perfect place for you!
The property can be rented out or used as your own private residence—it's up to you! Don't miss out on this opportunity before it's gone!
If you're interested in buying this property, get in touch with us today!
The house is ideal for renting to tourists, and represents an excellent investment.It is sold fully furnished and equipped.
All apartments are air-conditioned. The advantages of this large house are the location, right next to the sea. The sea is less than 10 meters from the house. Only the street is between the sea and the house. The street is not busy. In the summer, the bay is lively because tourists come. The house has all the necessary infrastructure, plumbing and electricity, internet is available. This region is known for its good wine and olive oil. Price for Waterfront residence on the island of Korcula is 525 000 EUR.
The settlement is quiet, and the climate is warm, with hot summers and mild winters. An ideal area for outdoor activities such as walking, cycling, recreational running. The town of Korčula is about a 15-minute drive away. Korčula is a beautiful green island with many beautiful beaches in hidden coves that are easy to reach by car or boat. The island of Korčula is well-connected to Split by daily ferry and catamaran connections, and to Dubrovnik. Split and Dubrovnik have an international airport. Korčula is well-connected by the highway and the bridge over the Pelješac peninsula, and with a short ferry connection from Orebić you will reach Korčula easily and quickly.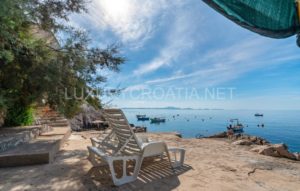 Read more about Korcula island here.
Read more about this property here Croatia Korcula island waterfront residence for sale.