About this Property:
Croatia Korcula Island waterfront house for sale
Croatia Korcula Island waterfront house for sale has 400 square meters. It is a detached building and it is situated in the first row next to the sea.
The whole lot has 939 square meters. House consists of the ground floor, first floor and second floor. It has 3 two-bedroom apartments, 2 one-bedroom apartments and one private apartment in the attic which is 200 sq.m. big and consists of large kitchen and living room, 3 bedrooms, 2 bathrooms, an additional toilet and four storage rooms. All of the apartments are fully furnished. The ground floor has a separate kitchen with fireplace. In addition to the house there is a private parking that can fit up to 5 cars and its covered with grapevine to create shadow during hot summer days. There is also an outside stone fireplace. Infrastructure at the house is complete (sewage, water, electric power).
Price for Croatia Korcula Island waterfront house for sale is on request.
The island of Korcula represents a unique fusion of beautiful nature, thousands of years of cultural tradition and history, and modern tourism. Numerous beautiful beaches and bays, luxurious hotels and summer houses, centuries old olive groves and vineyards, and ancient towns and villages on the island which seem as if they have remained lost in some long past time attract tourist from all over the world to this island. Korčula is among the most beautiful and best preserved medieval towns on the Croatian coast and in all of the Mediterranean, and is often referred to as "Little Dubrovnik.
The landscape of the island of Korcula is enriched by olive groves and vineyards which represent a traditional source of life and income for the population of the island of Korcula. Korcula is considered as the pearl of the southern Dalmatia and offers to its visitors picturesque walled old town of Korcula, magnificent coastal panoramas, dreamlike fishing villages and stunning coves.The coast of the island of Korcula is very indented with a large number of bays and coves.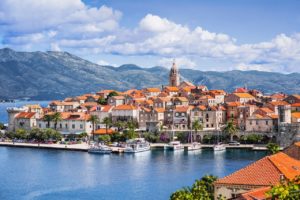 Find the ferry schedule to Korcula Island here.
Read more about buying property in Croatia here.