About this Property:
Land plot with two houses for sale on island Korcula
Land plot with two houses for sale on island Korcula are sitting on a land plot of 1812 sq.m. There are positioned 40 meters away from the sea.
First house has 100 square meters and 2 floors while the second one has 54 square meters. They have access from the main road situated above the land plot. There is a possibility of building few more residential buildings on the plot. Price for Land plot with two houses for sale on island Korcula is 260 000 EUR.
Korcula the island of Marco Polo is one of the most densely wooded islands in the Adriatic. The landscape of the island of Korcula is enriched by olive groves and vineyards which represent a traditional source of life and income for the population of the island of Korcula. Korcula is considered as the pearl of the southern Dalmatia and offers to its visitors picturesque walled old town of Korcula, magnificent coastal panoramas, dreamlike fishing villages and stunning coves.The coast of the island of Korcula is very indented with a large number of bays and coves. It's north shore is rather low and easily accessible with several natural harbours: Korcula, Banja, Racisce, Vrbovica, Babina and Prigradica.
The island of Korcula represents a unique fusion of beautiful nature, thousands of years of cultural tradition and history, and modern tourism. Numerous beautiful beaches and bays, luxurious hotels and summer houses, centuries old olive groves and vineyards, and ancient towns and villages on the island which seem as if they have remained lost in some long past time attract tourist from all over the world to this island. Korcula is among the most beautiful and best preserved medieval towns on the Croatian coast and in all of the Mediterranean, and is often referred to as "Little Dubrovnik. The island is also famous for being the the birthplace of the Croatian explorer Marco Polo.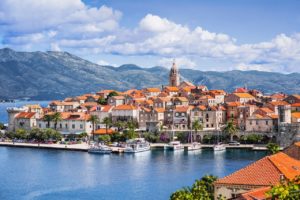 Find your route to Korcula island here.
Find out more about island Korcula here.
Read more about this property here Croatia Korcula island sea view houses for sale.