About this Property:
(H-JH-001)
SOLD: Traditional Stone House on Seafront, Jelsa Area, Hvar
Traditional stone seafront house for sale, Jelsa area, Hvar- A wonderful, traditional stone house located in a peaceful bay near Jelsa Town (popular Hvar Island).
The house is located right on the seafront, with a distance to the sea of 3.5m.
On the ground floor of the house is a living room with a kitchen and a bathroom, and, upstairs, there are two bedrooms and an additional room that can be renovated and refurbished into another bedroom or a bathroom.
Behind the house there is a small exterior suitable for barbecue and a terrace.
The center of Jelsa Town is located only 5km away.
House has electricity but it is not yet connected to the public water system. Water is provided, however, from the water well. There is no sewage system either but there is a septic tank.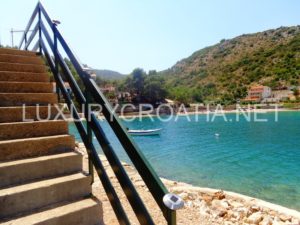 Traditional Stone House on Seafront, Jelsa Area, Hvar
Obtaining Energy Consumption Certificate is in process.
The island of Hvar is located in the Adriatic sea in the central part of Croatia's Dalmatia. It is the fourth island by its size, also called the "sunny island" due to the many hours of sunshine in the year, almost 280. The local hoteliers take pride in this, so if it happens that it snows on Hvar, your stay there is for free, however, this is a bet you are sure to loose. Luckily, there is some rain that enabels the production of beautiful greens and nature, especially lavander, sage, rosemary, thyme and some vineyards. Lavander actually happens to be one of the symbols and main exports of the island, so make sure to explore this beautiful plant on Hvar. Some of the main resorts on Hvar island are the Hvar town, Jelsa, Stari Grad, Vrboska and Sucuraj. The busy Hvar town's beauty is particulary recognized even amongst the rich and famous, accounting to the previous visits of stars such as Prince Harry or Jay-Z and Beyonce, so keep your eyes wide in a chance of bumping into some other celebrity. Hvar town is characterized by the beautiful Gothic palaces, marble streets and walls from the 13th century that surround it.
If you want to know more about Hvar, click here:
Hvar island