About this Property:
Sea view house for sale Solta island Dalmatia Croatia
This sea view house for sale Solta island Dalmatia Croatia is nested in the greenery at less than 70 meters from the beach. House has 3 apartments, garage, cultivated garden and beautiful panoramic sea view of the west from the large terrace suitable for dining and watching beautiful sun sets.
Sea view house sits on the 400 square meter land plot. Garage iz behind the house. It is located in quiet tranquil village of Solta island. House is organized on two floors and has about 170 sq.m. of living space and garage of 30 sq.m. Ground floor consist of 2 apartments: studio apartment and 2 bedroom apartment. First floor consist of 2 bedroom apartment. In the garden there is fireplace for grilling and outdoor kitchen under covered terrace.
Sea view house for sale for sale is well maintained so it is ready to move in and use. Connected to the electricity, city water system. City sewage system is possible to connect as the connection is on the street, but house has its own septic tank. Price for Sea view house for sale Solta is 380 000 EUR.
In summer time this village is full of activities in the nearby beach in the center. Supermarket, restaurant and caffe is at walk distance. Solta island is small, green and beautiful tranquil place close to Split, with 6 ferry lines per day every day. The small island of Solta is all about wine and olives. It is an island in the central Dalmatian aquatorium of the Croatian Adriatic Sea. It is situated only 9 nautical miles south away from Split, west of the island Brac and east of the Drvenik islands. Don't miss out on the tasteful olive pate either, served with anchovies and other sea food culinary specials from the locals.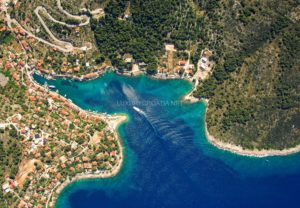 Find your route to island Solta here.
Find out more about island Solta here.
Read more about this property here Croatia Dalmatia Solta island sea view house for sale.