About this Property:
Stone Sea view villa with pool for rent in Dubrovnik Trsteno
Stone Sea view villa with pool for rent in Dubrovnik Trsteno is located in Trsteno, 400 m from Trsteno Arboretum. It can accommodate 8 people.
Villa consists of 3 bedrooms (two with queen size beds and one with 2 twin beds and a queen size bed) and 2 bathrooms. Kitchen is fully equipped with microwave, stove, oven, kitchenware, washing machine, dishwasher, toaster, kettle, refrigerator and dining table. Living room features flat-screen TV with cable channels. The whole villa is air conditioned, has free WiFi access and parking available. Outside, at the terrace is private swimming pool with sun beds. There is also an outdoor fireplace with BBQ facilities. Villa offers beautiful sea view. Pets are welcome, free of charge! Baby crib at  is available on request.
We have the most luxury villas in Dubrovnik for rent. The walled city of Dubrovnik was described by George Bernard Shaw as "paradise on earth". The old city is a protected UNESCO World Heritage Site and is surrounded by spectacular fortified walls up to 25m high and 6m thick. Founded in the 7th century on a rocky island called Laus, it later became known as Ragusa. The Venetians gained control of the city at the beginning of the 13th century but, by the end of the 14th century, Dubrovnik had essentially become an independent city state and had established a lucrative trading position with the Ottoman Empire. In 1815 it was handed over to the Austrians by order of the Congress of Vienna and incorporated into the province of Dalmatia.
Prices per day in 2021. in EUR:
10.05. – 31.05. 240 EUR
01.06. – 30.06. 310 EUR
01.07. – 31.08. 399 EUR
01.09. – 30.09. 310 EUR
01.10. – 19.10. 240 EUR
Check in: 14:00h
Check out: 10:00h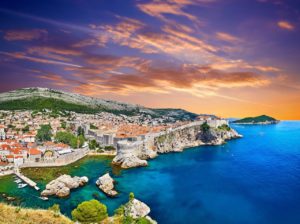 Find your route to Dubrovnik Trsteno here.
Find more about Dubrovnik here.