About this Property:
Croatia Dubrovnik area sea view villa for sale
Croatia Dubrovnik area sea view villa for sale has 130 square meters of living space and 100 square meters of garden. It consists of 3 levels.
The villa has been fully renovated in 2020. and has main floor, first floor and second floor. The main floor consist of an open space kitchen with a living room and dining room, and a terrace that has a view on the Adriatic sea. The first and second floor consists of bedrooms and bathrooms, altogether the house has 4 bedrooms and 3 bathrooms. Price for Croatia Dubrovnik area sea view villa is 550 000 EUR.
Dubrovnik has a lot of tourist attractions, such as walls of Dubrovnik that represent the city's main trademark. The walls run from four to six meters thick on the landward side but are much thinner on the seaward side.The system of turrets and towers were intended to protect the city. Another favorite tourist attraction are the Dubrovnik town gates. Dubrovnik town has four city gates: two that lead to the harbor and two that lead to the mainland. Placa or Stradun, main open-air public space of Dubrovnik, the favourite promenade and meeting place, the venue of all great festivities and processions, Stradun is the main shopping area and the widest and most beautiful street which divides the Old City into its northern and southern part. Its origins go back to the 11th century, when the people filled up the shallow sea channel which separated the one time Islet of Lave and a settlement on it from the land where another settlement existed. On the eastern part of Stradun there is The Large and lovely Onofrio Fountain. Dubrovnik is not only known for it's historical and cultural attractions or beautiful sea and beaches, but also as a filming location for many movies and tv shows such as Game of thrones, Robin good, star wars and so on.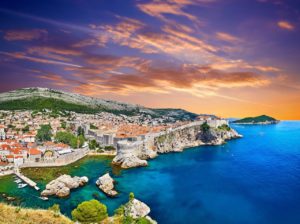 Find your route to Dubrovnik area here.
Find out more about buying property in Croatia here.
Read more about this property here Croatia Dubrovnik area sea view villa for sale.