About this Property:
Stone house for sale Ston area Peljesac
Stone house for sale Ston area Peljesac has 120 sq.m. and two levels. It is located on peninsula Peljesac, famous for its vineyards.
This stone house for sale Ston area has 120 sq.m. and the house surrounding surface is 200 sq.m. Stone house is located near top of the village and 5 minutes from the sea. There are road and driveway to this stone house, just like parking in front of the house. House has 2 levels and loft. At the entrance of the ground floor is one room with fireplace and old wine cellar. On the ground floor is also kitchen with living room and bathroom. 3 bedrooms are on the first floor of this stone house for sale. Small private garden is enclosed by little stone wall which gives it privacy and great potential to build a private pool. Stone house needs renovation and once it is renovated is ideal for any type of vacation, as well as everyday living.
SOLD!
Ston area Peljesac is one of the hidden gems in Europe considering its historic legacy. Ston is most known village for 3 things – its very well preserved town walls, its salt works and its oysters. It is located a little isolated, on the Peljesac Peninsula which is situated 60 km away from the nearest large city, Dubrovnik. The walls of Ston are perhaps what this little town is best known for and for a good reason. The walls are much longer than those in Dubrovnik, at 5 km. They are the longest defensive structure in Europe, sometimes referred to as the "European Walls of China". The walls of Stone were built in 1333 when Ston became a part of Republic of Dubrovnik.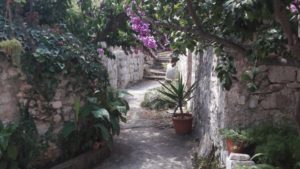 Read more about Ston area on our travel blog here.
Find your route to Peljesac here.