About this Property:
Seaside house in greenery for sale, Ston area
(HO-BS-A1)
SOLD!
Seaside house in greenery for sale, Ston area is located in the quiet area surrounded by greenery and only 100 meters from the sea, perfect for relaxing. House is situated near the historic town called Ston. It is a touristic place famous for its stone walls, salt factory, and oysters. It is also near Dubrovnik, only 1-hour ride, 60 km away. The house is semidetached and there are other houses nearby but the courtyard is walled so you can enjoy your peace and quiet. House has been renovated in 2013 so it's really modern, new and functional.
The sea and the beach are only 100 m away from the house!
House has laid on the ground floor with gallery space for sleeping if needed, it's spacious and has a lot of light inside with bright colors and very airy.  Inside the house, there are two bedrooms, every room with its own bathroom. Living room and the kitchen are separated. There is also a separated apartment with kitchen and bathroom and two big terraces (one has a garden view and another terrace has sea view). There is a courtyard in front of the house with walls and gate and parking for two cars.
The land plot has 220m2 and the house size is 92m2.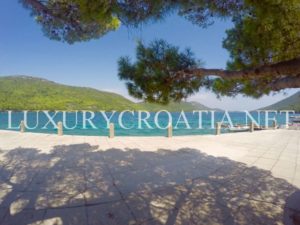 Ston is one of the hidden gems in Europe considering its historic legacy. It is a little isolated, on the Peljesac Peninsula which is situated 60 km away from the nearest large city, Dubrovnik.  The walls are much longer than those of its more famous neighbor Dubrovnik at 5km in length, making them the longest defensive structure in Europe; they are sometimes referred to as the 'European Walls of China". Built in the 14th and 15th centuries as an additional defense for the Republic of Ragusa (Dubrovnik) and to protect the lucrative salt pans in the area, the walls also consist of three fortresses – Veliki Kastil (in Ston), Korula (Mali Ston) and Prodzvizd Fort – and a number of towers.
If you want to know more about Ston, click here: Ston