About this Property:
Secluded house close to Vis town
(HO-VV-AL-01)
Secluded house close to Vis town
The island of Vis is a small Croatian pearl hiding in the Adriatic sea as the most distant inhabited island from the mainland of Central Dalmatia. The island is a favorite to many who just wish to enjoy their holiday with relaxation, and Vis, still undiscovered by the big masses of tourists, is a perfect destination. It is located in the open sea and was hence a military zone for years, but after this was finished, the island started to come to life and there were many things to show to the outside world. The island's natural beauty and cultural heritage is something that will make you want to stay forever. There is a small archipelago surrounding Vis and it is consisted of a number of smaller islands such as Jabuka, Budikovac, Ravnik, Bisevo, Svetac, Palagruza.  If you were to look to the south east, you would find another small archipelago of the island Lastovo, so beautiful it is nowadays protected as a park of nature.
The house is in a remote location, but still quite close to the town, only 7 km from Vis. There is a dirt road leading down to it, therefore a car or a bike is necessary to reach it. Surrounded with unspoilt nature, deprived of WiFi and cell signal, the house is perfect for people who want to move away from the city rush and stress, and enjoy some peace in a secluded, quiet place.
There is a gallery to sleep on, up on the wooden ladder and fully equipped kitchen. The grocery store, shops and restaurants are 20 minutes away with a bicycle or a car in the town of Vis. Beach is located only fifteen minutes away by foot, or 7 minutes away with a car.
There is also a TV, indoor fireplace, free parking on the premises, air conditioning and heating. Pets are allowed.
Additional cleaning fee: 50€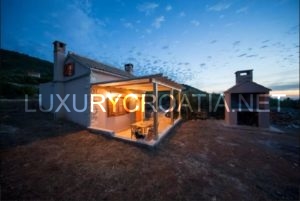 For more information on the island of Vis, click here: Island of Vis