About this Property:
Old stone house with land on the Island of Vis for sale
(VI-O-1)
Old stone house with land on the Island of Vis for sale is located on the south side of Island of Vis was built in 1900. The size of the house is 170 m2 and it needs a complete renovation. It has water and electrical connections. The house has two bedrooms. The license for reconstruction and the further building has already been obtained. The price also includes 1300 m2 of land and smaller stone houses that also need a complete renovation. It is possible to build 110 square meters on each floor, and the property can have a basement, ground floor and 2 floors maximum.  After renovation this could make an excellent house for a relaxing vacation since the Island of Vis is known for a lot of beautiful beaches.
More information about the location: The island's natural beauty and cultural heritage is something that will make you want to stay forever. There is a small archipelago surrounding Vis and it is consisted of a number of smaller islands such as Jabuka, Budikovac, Ravnik, Bisevo, Svetac, Palagruza.  If you were to look to the south east, you would find another small archipelago of the island Lastovo, so beautiful it is nowadays protected as a park of nature.
The two most important settlements to visit on Vis are the harbour Vis, located on the north- east side of the island, and Komiza bay on the west of the islands. The regular daily bus line between them makes it easy to jump from one to another. As an old military base, Vis has a number of fortresses. Some of these are the Perst tower standing in the port, George's Fortress called Fortica by the locals, Bentich fortress, the  Levaman battery ( or our Lady's fortress) built by the Austrians and today the Archaeological Museum, Robertson fortress and others.  The town walls are a view to admire, as well as the remains of the town's streets.The island's clear blue sea and preserved nature, gave in to creating some of the most beautiful beaches for you to see, such as Stiniva, Stoncica and Srebena.
Old stone house with land on the Island of Vis for sale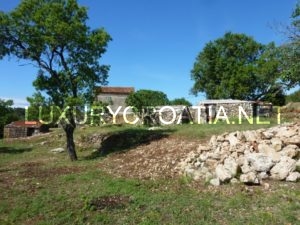 If you want to read more about Vis, click here: Vis island
Find out here information about buying property in Croatia – Buying procedure, Costs and Fees