About this Property:
Seaview stone house for sale in beautiful bay, island of Hvar
(HO-BH-IMP-01)
SOLD!
Seaview stone house for sale in beautiful bay, island of Hvar – This wonderful stone house has a great location in a bay located in the middle of island of Hvar.The house is only 6 km away from other settlements on Hvar such as Jelsa or Starigrad. It is situated second row to the sea with a fantastic view over the sea.
The upper part of the house is set out on 50 meters square, consisting of a living room, two bedrooms, a bathroom and a kitchen, the front terrace of 30 meters square and a side terrace in front of the kitchen, 15 meters square.
The lower part of the house sets out on 30 meters square, consisting of two bedrooms, a kitchen and a bathroom, and also a terrace of 20 meters square.
There is a garden that has two pantries (keeping rooms).
The house is located in the upper corner of the lot of 390 square meters, on which there are also garden terraces with exuberant autochtonous plants and trees.
Three parking spaces are available.
Price: 220 000€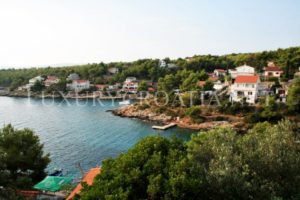 The island of Hvar is located in the Adriatic sea in the central part of Croatia's Dalmatia. It is the fourth island by its size, also called the "sunny island" due to the many hours of sunshine in the year, almost 280. The local hoteliers take pride in this, so if it happens that it snows on Hvar, your stay there is for free, however, this is a bet you are sure to loose. Luckily, there is some rain that enabels the production of beautiful greens and nature, especially lavander, sage, rosemary, thyme and some vineyards. Lavander actually happens to be one of the symbols and main exports of the island, so make sure to explore this beautiful plant on Hvar.
If you want to know more about Hvar, click here: Hvar
Find information about buying a property in Croatia here : Buying procedure, costs and fees