About this Property:
Sea view apartment for sale, Split
(SW-AA-SS)
Sea view apartment for sale, Split is a fully renovated unit located on the third floor. The property is situated very close to the local hospital and around 100 meters from the crystal clear sea, by which is the city of Split so famous. The building has an elevator and 5 floors in total. During the renovation the electric and plumbing installations were changed, along with kitchen, bathroom, windows (french type), new air conditioners, dining area etc…The size of the living area is 78m2. This apartment is completely equipped with high quality furniture which is included in the price.
This apartment is extremely bright and tu sun enters from all sides. The inside consists of two spacious bedrooms, one with a king size bed and one with two single beds. There is an air conditioning in each bedroom and a living room, which is connected to a kitchen and a dining area. There is a direct access from the living room to the balcony which offers beautiful panoramic sea view.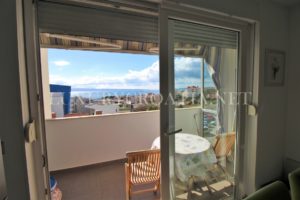 Stan na Firulama s pogledom na more, Split
EKSKLUZIVA: Agencija LuxuryCroatia.net ima isključivo pravo posredovanja u prodaji ovog prekrasnog stana.
Kupac ne plaća agencijsku proviziju prilikom kupovine ove nekretnine.
Ovaj kvalitetno renoviran stan nalazi se na trećem katu zgrade s liftom na Firulama, kod lokalne bolnice, s balkonom čiji pogled seže daleko na jadransko more i otoke. Prilikom renoviranja promijenjeni su svi prozori (francuskog tipa), električne i vodovodne instalacije, kupatilo i toalet, kuhinja s blagavaonicom, podne keramičke pločice, klime, tenda i rolete. Sav namještaj prodaje se zajedno sa stanom i ulazi u njegovu cijenu. Sve sobe i dnevni boravak su klimatizirani. Površina stana je 78m2.
Unutar stana nalaze se dvije spavaće sobe smještene na sjeveru, velika sprema, kupatilo i toalet. Stan ima visoko kvalitetna i sigurnosna blindo vrata te prostrano predsoblje koje vodi do spavaćeg dijela te do dnevnog boravka, kuhinje i blagavaonice. Preuređena blagavaonica ima velika kliznu stijenku prema lođi, tako da sunce obasjava većinu stana, koji je izuzetno topao i pun svjetla. Pogled na more je i iz dnevnog boravka koji je takodjer povezan izlazom na lođu. U sobama koje su na sjevernoj strani su takodjer novi i kvalitetni prozori sa duplim izo staklima koja osiguravaju potpunu izolaciju zvukova izvana.
If you want to know more about Split, click here: Split 
Find out here information about buying property in Croatia – Buying procedure, Costs and Fees