About this Property:
Apartment with sea view for sale, Split
(AW-SV-SS)
Apartment with sea view for sale, Split is located in one of the most attractive streets of this beautiful and historically important city. The closest beach called Znjan is one of the most famous places in town for swimming and enjoying the sun. Living area of this sea view apartment is (74,50m2). Outside of the apartment there is a large spacious terrace of (40m2). The stairs lead to a private garden that is one floor lower than the apartment. Inside of this one bedroom apartment you will find a big living room, a kitchen with a dining area and a bathroom. The price of the apartment also includes garden furniture, wall cabinets, everything in the bathroom along with a washing machine and a kitchen. Distance from the beach  is around 100m by foot.
The city of Split is the largest city in the Dalmatian region and the second largest city in whole Croatia. It's considered to be over 1700 years old, making it one of the oldest cities of this area as well. Split is a great connection to other cities and islands of Dalmatia all due to its great location, siting in front of the beautiful blue water of the Adriatic and backed up with impressive mountains. The center of Split is marked with the Roman Palace of the Emperor Diocletian, listed as a UNESCO World Heritage site for being one of the most impressive Roman constructions that is extraordinary preserved. The entire historic city core is on the same UNESCO list from 1979. Diocletian wanted to spend the last years of his life in peace within the walls of his Palace, built near the great Roman city of Salona…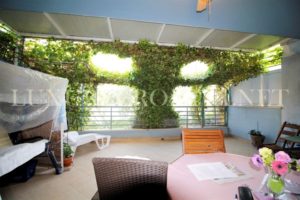 If you want to know more about Split, click here: Split