About this Property:
Old stone house for sale with garden Korcula island
(HO-KB-DT)
Old stone house for sale with garden Korcula island is a house in a row and has 2 floors. On the ground floor there are fireplace (separated open air kitchen) and terrace. On the second floor there are two bedrooms, bathroom, kitchen and dining room with living room. There is a little room which is used as a storage place. From the hallway on the upper floor there are doors which leads in the garden. Garden has 20 m2 where are growing mandarin and lemon trees. From the garden there are stairs which leads on the terrace that is 36 m2.
House is completely furnished and has a building permission.
THIS HOUSE WAS SOLD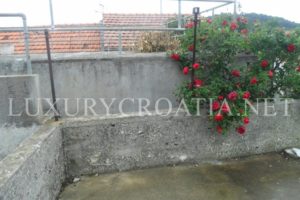 This is one of the most densely wooded islands in the Adriatic. The landscape of the island of Korcula is enriched by olive groves and vineyards which represent a traditional source of life and income for the population of the island of Korcula. Korcula is considered as the pearl of the southern Dalmatia and offers to its visitors picturesque walled old town of Korcula, magnificent coastal panoramas, dreamlike fishing villages and stunning coves.The coast of the island of Korcula is very indented with a large number of bays and coves. It's north shore is rather low and easily accessible with several natural harbours: Korcula, Banja, Racisce, Vrbovica, Babina and Prigradica. The island of Korčula represents a unique fusion of beautiful nature, thousands of years of cultural tradition and history, and modern tourism. Numerous beautiful beaches and bays, luxurious hotels and summer houses, centuries old olive groves and vineyards, and ancient towns and villages on the island which seem as if they have remained lost in some long past time attract tourist from all over the world to this island.
If you want to know more about Korcula, click here: Korcula