About this Property:
(RE: V-BR-TV-02)
No 2. VIP Holiday Villa, Brijuni
This Vip holiday Villa in Brijuni consists of two buildings equipped to accommodate 6 people. In the first building, there is the kitchen and SPA zone, while in the second there are 3 double bedrooms (with master beds), bathrooms, sitting room, dining room & studio. On the spacious terrace in front of the villa one can enjoy preparing barbecues.
What is special about this villa is location and history?  It is one of the villas where world politicians and celebrities take rest. Villa is on the island of Brioni (Angelina Jolie visited), which are part of national park and villa is located on an isolated place on the private beach, has 3 double bedrooms (with master beds), bathrooms, sitting room, dining room & studio.
This Vip Holiday Villa is located in the bay, surrounded by lush greenery, Mediterranean pine wood. The large terrace overlooks the beach in front. Villa is in total privacy.
Price includes breakfast, maid 7 hours per day, transfer by speed boat from Fazana to the villa and on the departure day from villa to Fazana (near Pula airport), 1 electric car as on the picture at guests disposal all time, bikes, and private guide around the island and national park. On the island, guests can enjoy golf, polo, horseback riding, biking, zoo safari, and a lot of other activities. We can organize excursions to nearby locations.
Price does not include sojourn tax, which is 1 EUR per person per day (except for small kids is free).
Breakfast is served in the villa by the butler. If guests want lunch and dinner served in the villa, that can be arranged with nearby hotel restaurant on the beach ( delivery free of charge, meals are at extra cost).
Minimum stay in July and August is 7 days.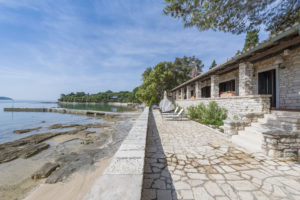 PRICES ARE AVAILABLE AT REQUEST
If you want to know more about national parks, click here:
National parks 
You can plan your route to Fazana via this link:
ViaMichelinn