About this Property:
Modern villas with pools for rent in Dingac Region
There are 2 modern villas with pools for rent in Dingac Region. They accommodate up to 14 persons. One villa has infinity pool.
There are 4 bedrooms and 4 bathrooms in modern villa with infinity pool in Dingac Region and 3 bedrooms and 3 bathrooms in the sea view villa with pool. Bathrooms in these modern villas with pools are equipped with shower, hair dryer, free toiletries, cleaning products, washing machine and ironing facilities. Living rooms in modern villas with pools are spacious and feature seating area with satellite flat screen TV. If you want to cook, you will have fully equipped kitchens at your disposal. Kitchens are equipped with oven, stove, microwave, coffee maker, dishwasher, refrigerator, freezer, toaster, water kettle and dining area. There are indoor and outdoor dining area in these modern villas. Terraces by the pools are completely furnished and sun loungers and parasols are provided. If you arrive by car in Dingac Region, you will have private garage parking and private parking spots at your disposal. Pizza oven is at your disposal in one of the villas and BBQ facilities are also at your disposal in both modern villas,
Modern villas with pools are located in Dingac Potocine, small village in Dingac Region. Region is known for vineyards and it is popular among locals for growth of own vegetables and production of domestic wine. Modern villas do not offer just panoramic sea view but also amazing landscape view. Your outdoor living area is perfect for enjoying glass of domestic wine and sunsets behind the islands surrounding you. Nearest beach to the modern villas is just 150 m away. Nearest grocery store, restaurants, coffee bar and bus station are only 2 km from the villas. If you want to visit Island of Korcula, you can take the ferry from Orebic port which is 20 km from this modern villa.
Please be advised that this is potentially hazardous environment for unaccompanied small children.
Price list for both villas per day in 2020 in EUR:
01.01. – 30.04. 375 EUR
01.05. – 08.05. 375 EUR
09.05. – 15.05. 415 EUR
16.05. – 22.05. 421 EUR
23.05. – 12.06. 475 EUR
13.06. – 19.06. 535 EUR
20.06. – 26.06. 591 EUR
27.06. – 03.07. 751 EUR
04.07. – 21.08. 785 EUR
22.08. – 04.09. 673 EUR
05.09. – 11.09. 407 EUR
12.09. – 02.10. 374 EUR
03.10. – 31.10. 374 EUR
01.11. – 31.12. 374 EUR
*Minimum stay in 7 days.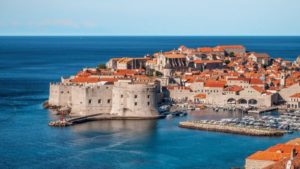 If you want to read more about this area, read here.
Find your route to Dingac Region here.