About this Property:
(RE-V-VABR)
Modern villa in a traditional setting, Selce, Brac island
Modern villa in a traditional setting, Selce, Brac island – This modern villa is located in Selce village. Villa is 1 mile away from the center on the elevated location with open view of the sea, nested in Mediterranean greenery and rocks. The bushes of rosemary planted next to the pool without chlorine gives it a nice smell. The combination of stone and glass unites the modern and the traditional, and the two "towers"connected to a covered outdoor walkway give the impression of the castle.
Silence gives it the title of an ideal place for rest and simplicity describes its interior: living room adds to the kitchen, and both sides of the room have separate exit to the terrace with swimming pool that offers a magnificent view of the surroundings. This outdoor living area can be reached directly by  staircase.
Villa offers 4 bedrooms  and 3 en-suite bathrooms, separate toilet, kitchen, living room, dining room, terraces, swimming pool, total 8 people can be accommodated in villa.
The rooms are decorated with antique wooden furniture, and spacious bathrooms have a shower glass partition.
Throughout the house, the walls are decorated with pictures of old maps, ancient gods and philosophers. Thanks to the large glass sliding walls and position of the house oriented to the south, there is plenty of sun on the pool and terraces.
When you get down in Selce, a monumental neo-Romanesque church of Christ the King will take your breath away, built entirely of high quality white Brac stone, as well as nearly all the houses in the village. The center is dominated by a particular gallery of busts and statues of many notables: Leo Tolstoy, Stjepan Radić, and Pope John Paul II. You can meet pastoral way of life in the surrounding villages whose idyllic spirit  failed to disrupt by modern times.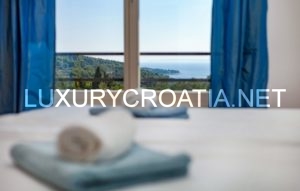 Prices for 2018. in Eur per day:
Season I
08.09 – 14.09 275 eur/ day
Season III
01.09 – 07.09 330 eur/ day
Season IV
09.06 – 29.06 420 eur/ day
25.08 – 31.08 420 eur/ day
Season V
30.06 – 24.08 525 eur/ day
A security deposit of EUR 500 is required upon arrival for incidentals. This deposit is fully refundable upon check-out and subject to a damage inspection of the accommodation.