About this Property:
Modern house for sale with magnificent panoramic view Korcula
(HO-KK-ZA)
Modern house for sale with magnificent panoramic view Korcula was built on a hill top so it enjoys the beautiful panoramic sea view. House has three apartments. Ground floor apartment has 50 m2 and the same size is as the fenced front yard. Second apartment of the house has 90 m2 with a small terrace and the entrance is on the south side of the house. Third apartment of the house is an attic apartment size 70 m2 with terrace.
Every apartment has separate enterance which was made afterwards. House was first connected with inside stairs which can be re-build again. Position of the house is south-north, and the main enterance is on the south side. There is a magnificent panoramic sea view from all three apartments, you can see also peninsula Peljesac. This modern house for sale is fully furnished.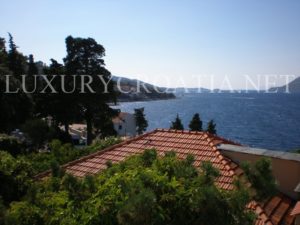 This is one of the most densely wooded islands in the Adriatic. The landscape of the island of Korcula is enriched by olive groves and vineyards which represent a traditional source of life and income for the population of the island of Korcula. Korcula is considered as the pearl of the southern Dalmatia and offers to its visitors picturesque walled old town of Korcula, magnificent coastal panoramas, dreamlike fishing villages and stunning coves. The coast of the island of Korcula is very indented with a large number of bays and coves. It's north shore is rather low and easily accessible with several natural harbours: Korcula, Banja, Racisce, Vrbovica, Babina and Prigradica. The island of Korčula represents a unique fusion of beautiful nature, thousands of years of cultural tradition and history, and modern tourism. Korčula is among the most beautiful and best preserved medieval towns on the Croatian coast and in all of the Mediterranean, and is often referred to as Little Dubrovnik.
If you want to know more about Korcula, click here: Korcula