About this Property:
Luxury stone villa with pool for rent, Praznica, Brac island
(R-V-B-PR-L)
Luxury stone villa with pool for rent, Praznica, Brac island: This luxury villa was built in 2009. in the central part of the Brac island. It's architectural balance is contributing to the harmony, simplicity and dominant colors of the place made of white stone from Brac.
This eye and soul soothing villa offers high comfort on 250 sqm of very interesting and well organized space suitable for a family vacation or for welcoming a bigger groups of friends. Villa consists of 4 en suite bedrooms with balconies, large living room area with a fireplace only visualy separated from the kitchen and dinning area, separate kitchen with a fireplace and grill decorated in antique style and an unique wine cellar intimately designed for a good company.
Each bedroom is equipped with TV, DVD, Glamox furnace and aircondition. Also, there is a phone, a computer with high speed Internet, cable TV, a stereo with amplifier and speakers, video surveillance and alarm system.
The interior of the villa is filled with numerous paintings in all bedrooms and marine antiques that create a special atmosphere in the ground floor premises filled with sun light through the large glass walls which create unique space of infield with pool when opened. Wooden furniture and beam ceilings, stone walls with arches and columns, carefully integrated details that create home atmosphere seem to awake the old captain's stories and creating new ones at the same time.
Surroundings of the villa is built and cultivated with native plants maintained by a gardener. There is a parking that can be reached from a paved road. Perfection and a comfort of a true vacation provides a large 8x4m swimming pool along with a porch with large handmade wooden table to enjoy a lunch in the open.
– air conditioning
– Heating: electric
– Fireplace
– High speed internet
– Video surveillance and alarm system
– Cable TV
– Sauna
– Rowing device
– Fully equipped kitchen: dishwasher, refrigerator, microwave oven, grill, …
– Wine cellar with Wine and Olive Oil thin
– Quiet area, close to the village with shops, post office, church
– Parking lot in the yard
– Proximity to the airport (8 km) and ferry port (22 km)
Check in: Saturday, 3 PM
Check out: Saturday,11 AM
Prices 2020 per day:
July/August – 372€/day
May/June/September/October – 343€/day
Rest of the year – 315€/day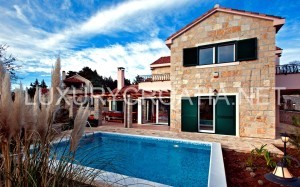 If you want to know more about Brac island, click here: Brac
If you want to check the ferry schedule, you can do it here: Jadrolinija