About this Property:
Land for sale with sea view on island Hvar
Land for sale with sea view on island Hvar has 800 square meters and offers beautiful view of the sea and Brac island.
The plot is flat and it is located alongside the paved road, slightly secluded from the village. Electricity and water connections are right next to the land. Sea is about 4-5km away. Papers are clean and ownership is 1/1. Location is really nice and it is ideal for people who during summer like to be outside urban areas. Price for Land for sale with sea view on island Hvar is 83 000 EUR.
The island of Hvar is located in the Adriatic sea in the central part of Croatia's Dalmatia. It is the fourth island by its size, also called the "sunny island" due to the many hours of sunshine in the year, almost 2800. The local hoteliers take pride in this, so if it happens that it snows on Hvar, your stay there is for free, however, this is a bet you are sure to loose. Luckily, there is some rain that enabels the production of beautiful greens and nature, especially lavander, sage, rosemary, thyme and some vineyards. Lavander actually happens to be one of the symbols and main exports of the island, so make sure to explore this beautiful plant on Hvar. The busy Hvar town's beauty is particulary recognized even amongst the rich and famous, accounting to the previous visits of stars such as Prince Harry or Jay-Z and Beyonce, so keep your eyes wide in a chance of bumping into some other celebrity. Hvar town is characterized by the beautiful Gothic palaces, marble streets and walls from the 13th century that surround it. There are many beaches on Hvar where you can just leave your towel and jump in the sea for a swim, but the nearby, small chain of islands, known as Pakleni Islands, hide crystal- clear waters, lagoons and beaches. The Hvar town has a promenade in the harbor, nesting some small boats and some luxury yachts to create a nice atmosphere in the evening light for a walk around town.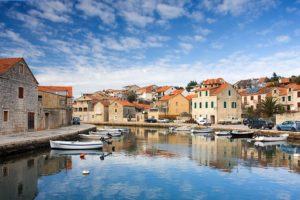 Find your route to island Hvar here.
Find more about island Hvar here.
Read more about this property here Croatia island Hvar sea view land for sale.