About this Property:
Land for sale on Island Korcula
Land for sale on island Korcula has 791 sq.m. and it is just 250 m from the sea.
There is beautiful open view of the sea from the land for sale on island Korcula. Land for sale has 791 sq.m. and it is located next to the road. All the infrastructure is located near the land. Land for sale is located in a peaceful location, ideal for vacation, just a few minutes drive from the center of town, and 6 km from city of Korcula. Price for the land is 103 000 EUR.
Korcula – the island of Marco Polo is one of the most densely wooded islands in the Adriatic. The landscape of Korcula is enriched by olive groves and vineyards which represent a traditional source of life and income for the population of the island of Korcula. Korcula is considered as the pearl of the southern Dalmatia and offers to its visitors picturesque walled old town of Korcula, magnificent coastal panoramas, dreamlike fishing villages and stunning coves. The coast of Korcula is very indented with a large number of bays and coves. It's north shore is rather low and easily accessible with several natural harbours: Korcula, Banja, Racisce, Vrbovica, Babina and Prigradica.
Croatia has much to offer for the property buyer, including an enormous variety of landscapes, a wide choice of unique cities, towns and villages, a great climate, wonderful beaches and crystal clear sea. Ease of access from the rest of Europe, the clear waters of the Adriatic and an ever-improving infrastructure are good reasons to visit Croatia. Croatia also officially became the 28th member state of the European Union in July, 2013. This is a result of the impressive progress made by the country as an independent state, and definitely helps to promote Croatia tourism-wise.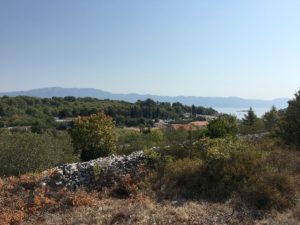 Read more about buying property in Croatia here.
Find the ferry schedule to Island Korcula here.
Read more about this property here Croatia island Korcula sea view land for sale.