About this Property:
(L-OR-P5D4)
Seafront Building land for sale in Peljesac
Seafront Building land for sale in Peljesac has total of 15 000 square meters. There is 8000 sq.m. in the building zone, and 7000 sq.m. is agricultural land ideally for vineyard. Dimensions of the land are 80 meters seafront length and 180 meters up the hillside length.
There is asphalted road access to the land.
Dingac is famous wine sort from this region. Land is mostly used for wine production. The entire peninsula is prime wine growing territory, and there are many beautiful wineries all over the island.
Pelješac is a peninsula in southern Dalmatia in Croatia. The peninsula is part of the Dubrovnik-Neretva County and is the second largest peninsula in Croatia. From the isthmus that begins at Ston, to the top of Cape Lovišta, it is 65 km or 40 mi long. South Dalmatia is a region rich in historical and cultural tradition along with its authentic gastronomic offer and long-time tourist tradition. It is the smallest area of Dalmatia, and is also the least populated.The region is characterized by a mild Mediterranean climate with nice sunsets.The coast offers several coves with beautiful sand or pebble beaches.The landscape in South Dalmatia is extremely beautiful, in most parts the high mountains cascade down to the Sea, leaving little space for human interference in terms of cities and infrastructure. South Dalmatia is a part of region that is mostly famous for the city of Dubrovnik, but there is so much more to see in this area. This region is known, among other things, for its good vine, delicious oranges,oysters, as well as olive oil.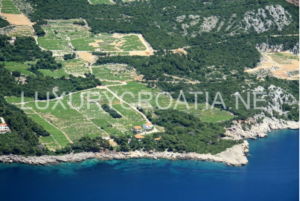 If you would like to know more about buying procedure  please find it here: buying procedure
And about costs and fees please read here: Costs and fees