About this Property:
(L-OR-PLJ-2)
Land for sale Orebic Peljesac
Land for sale Orebic Peljesac has size of 841 square meters and it is located in the small village of Orebic.
Land has a building permit and it is situated in quiet place, surrounded by nature. There is a beautiful panoramic view of the sea and islands. The plot can be reached by car. Street ends in front of plot, there are only few houses nearby and a lot of greenery, olive groves and mountain behind. Land is oriented to the south, so enjoys sun all day and beautiful sea view of Korcula island. In front of the land there is a small slope so nothing can be built. This is why panoramic sea view will never be obstructed. Price per square meters is 180 EUR. The land is in building zone, residential purposes, with building permission to construct ground floor house. It is possible to extend building permit to build large villa with pool. In this case only difference in square meters is to be paid for extending building permit. The plot about 300 meters form the sea. Price for Land for sale Orebic Peljesac is 152 000 EUR.
Orebic is located towards the tip of the Peljesac Peninsula, opposite the island of Korcula. Once upon a time very well known for its maritime industry – which reached a peak in the mid-19th century during the Austro-Hungarian – these days it is probably the best known resort on the Peljesac Peninsula. It is home to some lovely beaches, including that rarity in Croatia – sandy beaches! (Check out Trstenica Beach in particular.) The area is also a suitable location for a range of activities, including surfing and diving.
Orebic is situated in the heart of Croatian wine country. The entire peninsula is prime wine growing territory, and there are many beautiful wineries all over the island. It also has a lot of of lovely little beaches, some sandy and some shingly, bordered by groves of tamarisk and pine.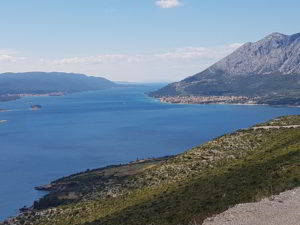 If you want to know more about Orebic, click here: Orebic
Find your route to Orebic here.
Read more about this property here Croatia South Dalmatia Orebic sea view land for sale.