About this Property:
House for sale in Sibenik area
This house for sale in Sibenik area was built in 2018. House for sale has 30 sq.m.
House for sale in Sibenik area is newly built and follows all of the standards of modern day construction. House for sale has 1 bedroom and 1 bathroom. Kitchen is connected with living room which has one sofa. Total size of the parcel is 50 sq.m. There is also outdoor terrace of 30 sq.m. There is parking space in the yard of the house for sale in Sibenik area. House is located just 3 minute walk from the beach. Price for the house is 75 000 EUR.
SOLD!
Sibenik is a historic city located in the central part of the Croatian coast on the Adriatic sea where the beautiful river Krka flows into the Adriatic. It is a centre of the county of Sibenik and Knin and it extends along the 100 km long coastline from Zadar to Split while laying under the Dinara mountain in the hinterland area. The city is different from other cities on the coast because it was founded by Croats and not by Greeks, Illyrians or Romans, meaning it is the oldest native Croatian city on the Adriatic. Today, Sibenik has good connections to the surrounding areas, all due to its good road traffic position, and the air traffic which is available from Split's Kastela Airport (45 km away) or Zadar's Zemunik Airport (50 km away). Not so far from Sibenik, you can visit two national parks, the 35 km long Kornati islands known for their irregular bizarre shapes and the Krka national park, where you can visit the islet Visovac and see Skradinsi buk, or you can just relax in the shadows, watch the waterfalls or go for a swim. The Sibenik- Knin county of Croatia has an interesting mix in their gastronomy offer, combining the continental and Mediterranean cuisine. Due to the cold and widy winter months in the hinterland, this area is said to produce some of the best proscuitto in Dalmatia.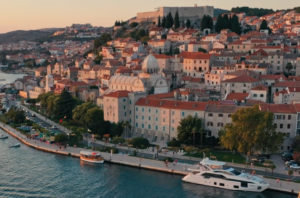 Find your route to Sibenik here.
Read more about Sibenik area here.
Read more about this property here Croatia Sibenik area sea view house for sale.