About this Property:
House for sale in Klek area
House for sale in Klek area has 5 levels. House for sale is not finished and can be turned into 6 apartments.
House for sale in Klek area has 634 sq.m. and consist of a basement, main floor and three upper floors. Main, first and second floor of the house for sale are big enough for 2 apartments per floor, and the third floor can be made into one spacious apartment with outdoor terrace. House for sale has a garage in the basement. The land behind the house is already prepared for building a pool, all digging and construction work have been done. House for sale has all building permits, and all fees are paid. House for sale is situated just 50 m from the landscaped beach. Area is a beautiful, small and quiet, perfect for vacation. Price for the house is 365 000 EUR.  If you want to buy completely finished house with finished interior and exterior, the price is 695 000 EUR.
Property market in Croatia became more open to European Union citizens who are now able to buy on the same terms as local Croats (except agricultural land and land in national parks). This burning of red tape in the buying process is not only speeding up the property buying procedure. It also encourage more buyers to purchase in Croatia with confidence. Property buying in Croatia for non-EU citizens is governed by the principle of reciprocity. This means the right of an individual to buy property on the condition that Croatian nationals are permitted to buy property in the origin country of the purchaser. For EU citizens rule is that they buy in Croatia same way as Croatians, except agricultural land. If foreigner want to buy agricultural land, company has to be formed which will buy agricultural land. As in all property transactions, the buyer should always use the services of an independent lawyer who acts solely for them. We are glad to recommend experienced and reliable solicitor. It is also essential that the lawyer should speak both Croatian and English fluently.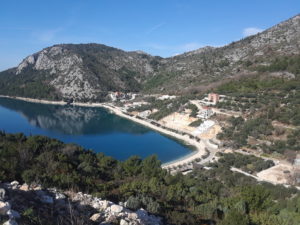 Find your route to Klek area here.
Read more about buying property in Croatia here.