About this Property:
Sea view house for sale in Cavtat Dubrovnik
SOLD!
This sea view house for sale in Cavtat Dubrovnik has 185 sq.m. and offers beautiful view of sea. Sea view house for sale in Cavtat Dubrovnik has 2 apartments.
First two level apartment is located on the main floor and in the basement. This apartment has 107 sq.m. of living space and 30 sq.m. of terrace and loggia. There is also garage with 32 sq.m. size.
Second apartment is located on the first floor of the sea view house for sale in Konavle. Apartment has 78 sq.m. and terrace with usable space of size 23 sq.m. This apartment also has parking spot of 15 sq.m. House for sale has great location near Dubrovnik and offers amazing view of the Adriatic sea. Sea view house is move in ready and has great renting potential. Price for sea view house for sale is 566 000 EUR.
The Konavle region is on the southern tip of Croatia.There are 20 villages in Konavle, the largest of which are Cilipi and Gruda which is the region's administrative capital. All except Cilipi and Gruda are on the slopes of hills or mountains. As an agriculturally productive region, it was a most important asset to the Republic of Dubrovnika. The villages still contain reminders of Konavle's fascinating history. In the village of Pridvorje is a Ducal palace that recalls the days when wealthy Dubrovnik residents built villas in the region. In the hamlet of Mocici is an ancient temple complex as well as traces of an even earlier Illyrian shrine.
The small medieval town of Cavtat is both the tourist and cultural centre of Konavle. Among the many significant cultural sites are the Mausoleum of the Račić family, the birthplace of Vlaho Bukovac, the Ducal Palace and the Sokol Fortress.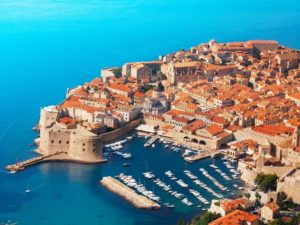 Find your route to Konavle region here.
Read more about the area on our blog.