About this Property:
Comfortable sea view house for sale near Dubrovnik
(HO-ZDU-NN-01)
Comfortable sea view house for sale near Dubrovnik is pretty and comfortable house is located in Zaton Veliki, very close to the city of Dubrovnik. The house has a great location with a view over the sea and surrounding mountains. It is also located close to the shops- only 500 meters from the promenade, beach, restaurants..
The house has three stories, each one has a separated entrance from the outside. On the ground floor there is a living room with a kitchen, a bathroom, two additional beds that can be sprea in the hallway,and a terrace with amazing view.
The first and the second floor consist of a bedroom, a bathroom and a terrace. The basemenet has a summer kitchen and another terrace where you can relax and have some lunch, a small plot with lemon tree, kiwi and a mobile barbecure.
The price includes complete furniture, all the appliances, bed linnens, the dishes and everything else that is in the house besides the personal bellogings.
There is air conditioning in the entire house.
There is a garden and a barbeque around the villa..
Permits: building permit, owners certificate,
Connected to the city sewer.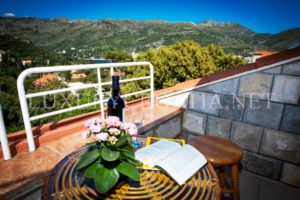 Dubrovnik has a lot of tourist attractions, such as walls of Dubrovnik that represent the city's main trademark. The walls run from four to six meters thick on the landward side but are much thinner on the seaward side.The system of turrets and towers were intended to protect the city.
Another favorite tourist attraction are the Dubrovnik town gates. Dubrovnik town has four city gates: two that lead to the harbor and two that lead to the mainland.
Another attraction that needs to be mentioned is the Lovrijenac Fort that is located on the west side of the Old City on a 37 metre-high rock. Lovrijenac is symbol of Dubrovniks survival and freedom, Above the entrance to the fort is the famed inscription: NON BENE PRO TOTO LIBERTAS VENDITUR AURO (Freedom is not sold for all gold in the world).
If you want to know more about Dubrovnik, click here: Dubrovnik