About this Property:
SOLD: First row to the sea house for sale, Gradac
(FR-TT-GS)
This house was SOLD. First row to the sea house for sale, Gradac is a beautiful property situated 20 meters from the crystal clear Adriatic sea. This small tourist settlement is located close to the city of Makarska. Next to the house, you will find a staircase that leads to a small beach. There is no road between the property and the sea. In front of the house is a spacious terrace with a panoramic sea view and a garden with lots of Mediterranean plants and trees. Relaxation and privacy are completely ensured. The size of the land plot is 416m2 and the size of the living space is around 200m2. There is a dock for small and large boats.
Outside the house is a parking spot for 3 to 4 cars, rustic fireplace, storage, and an outdoor toilet. The house is organized on 2 floors. It features 3 bedrooms and 3 inside bathrooms. On the inside, you will also find a dining and living room, fireplace and a kitchen.
Makarska, between mountain and sea
Makarska is a tourist resort and a small city, located on the coastline of the Adriatic sea of Croatia, around 60 km from Split on one side, to around 140 km away from Dubrovnik on the other side. The whole surrounding region is known as Makarska Riviera, with Makarska always being its center. Makarska is also famous as a medical resort for senior generations.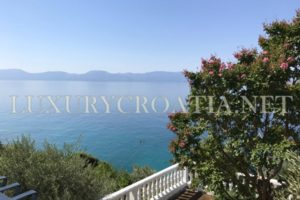 If you want to know more about Makarska, click here: Makarska
Find out here information about buying property in Croatia – Buying procedure, Costs and Fees