About this Property:
Croatia Trogir sea view stone villa for sale has 450 sq.m. and it is located in a peaceful area, offering beautiful view of the Adriatic sea.
The villa for sale consists of the main floor, first floor, and basement that has 140 m2 and features 2 garages and additional storage space. The main floor and first floor each have a three-bedroom apartment that are fully furnished, with new windows. Villa has 8 bedrooms and 3 bathrooms total. Sea view villa is legalized as unfinished with terrace at the top, because of that there is a possibility of building one more floor. The whole lot size of the property has 700 sq.m. Price for Croatia Trogir sea view stone villa for sale is 620 000 EUR.
LuxuryCroatia.net is Real Estate Agency that has 10 years of experience in sale of all kind of Croatian properties. Our small but dedicated team of experts can search and find your adequate property, if you can't find it in our listings of more than 1500 Croatian properties for sale. We are locals, Croatians, with experience in sales of properties and have visited all Croatian coastal and island destinations and locations, so that we can help you with advice about amenities of location that is of your interest. We know every inch of our country, every village, bay, island, we are proud of Croatian rich heritage and history.
Trogir, Dalmatia's hidden gem is a remarkable small town with 2300 years of tradition, set on a small island on the Adriatic coast of Croatia in the center of Dalmatia. Hiding not so far away from Split, only 27 km, it is connected to the mainland and with another island, Ciovo with bridges.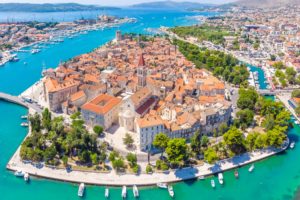 Find your route to Trogir here.
If you want to know more about Trogir, click here.