About this Property:
Croatia Makarska Riviera area house for sale
Croatia Makarska Riviera area house for sale has 300 square meters, while the whole lot size is 100 square meters big.
House consists of 2 apartments of 150 square meters each. It features 7 bedrooms and 2 bathrooms in total. House also has a basement, garage and 3 parking places in front of the house. There is a road access to the house available. It also provides all the infrastructure such as water and electricity. House is situated 500 meters from the Adriatic sea. Price for Croatia Makarska Riviera area house for sale is 270 000 EUR.
The shape of the deep sheltered bay in Makarska reminds of a horse shoe, and the beautiful sea nature is accompanied by the Biokovo mountain rising from the other side, creating a mesmerizing sight to see. This attractive natural setting, good climate and a lot of tourist attractions make it one of the most popular tourist destinations on the Croatian coast.
Makarska has a long waterfront promenade with palm trees, bars and cafes overlooking the harbor, a great place to go for a walk and relax in the shadows while sipping your morning coffee.
The streets of the centre of Makarska are narrow and stone-paved, just like most of the old towns in Croatia. In the centre there is a main church square, accompanied with a flower and fruit market, as well as a Franciscan monastery, holding a collection of sea shells.
LuxuryCroatia.net is Real Estate Agency that has 10 years of experience in sale of all kind of Croatian properties. Our small but dedicated team of experts can search and find your adequate property, if you can't find it in our listings of more than 1500 Croatian properties for sale. We are locals, Croatians, with experience in sales of properties and have visited all Croatian coastal and island destinations and locations, so that we can help you with advice about amenities of location that is of your interest. We know every inch of our country, every village, bay, island, we are proud of Croatian rich heritage and history.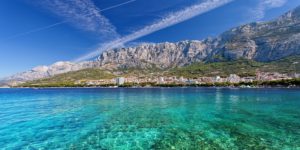 Find your route to Makarska area here.
Find out more about buying property in Croatia here.
Read more about this property here Croatia Makarska Riviera area house for sale.