About this Property:
Croatia Makarska area waterfront house for sale
Croatia Makarska area waterfront house for sale has 450 sq.m. and consists of 4 levels. The lot size is 293 sq.m.
House has the ground floor, first floor, second floor and third floor. There are 3 apartments of 125 sq.m. and a spacious main floor that can be used as a restaurant or Caffee shop. The second and third floor apartment has a kitchen, bathroom with toilet, small toilette, 2 bedrooms and each has its own big balcony that has beautiful sea views on one side and view of the canal. The first floor apartment is similar to the other two, but it has 3 bedrooms, one more than the other two apartments. The house for sale is southwest oriented and just 20 m away from the sea. The main road is above the house. Underneath the house, there is a paved road that goes along the seashore. There are 3 parking spots on the property. Price for Croatia Makarska area waterfront house  is 399 000 EUR.
LuxuryCroatia.net is Real Estate Agency that has 10 years of experience in sale of all kind of Croatian properties. Our small but dedicated team of experts can search and find your adequate property, if you can't find it in our listings of more than 1500 Croatian properties for sale. We are locals, Croatians, with experience in sales of properties and have visited all Croatian coastal and island destinations and locations, so that we can help you with advice about amenities of location that is of your interest. We know every inch of our country, every village, bay, island, we are proud of Croatian rich heritage and history.
The streets of the centre of Makarska are narrow and stone-paved, just like most of the old towns in Croatia. In the centre there is a main church square, accompanied with a flower and fruit market, as well as a Franciscan monastery, holding a collection of sea shells.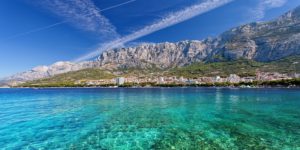 Find your route to Makarska here.
Find more about buying property in Croatia here.
Read more about this property here Croatia Makarska area waterfront house for sale.