About this Property:
Croatia Makarska house for sale
Croatia Makarska house for sale has 110 sq.m. It is renovated in 2020.
This house has 3 levels (ground floor, first floor and loft). The ground floor of the house has a separate entrance and it is fully furnished. Consists of bedroom, bathroom, open space living room and kitchen. The first floor and the loft are not fully furnished. The house is built with special material-ytong which is distinguished by various characteristics from the other materials. It is special because of its superior thermal insulation, fire resistance, exceptional load-bearing capacity and multifunctional use. Therefore, facilities built by it are durable, safe and sound. The house has all the infrastructure needed, such as electric power, water, sewage, Internet and TV. Also, in the near distance of the house there is market, restaurants, cooffe shops and hospital. Price for Croatia Makarska house for sale is 270 000 EUR.
Makarska is a tourist resort and a small city, located on coastline of the Adriatic sea of Croatia, around 60 km from Split on one side, to around 140 km away from Dubrovnik on the other side. The whole surrounding region is known as Makarska Riviera, with Makarska always being it's centre. Makarska is also famous as a medical resort for the senior generations. The shape of the deep sheltered bay reminds of a horse shoe, and the beautiful sea nature is accompanied by the Biokovo mountain rising from the other side, creating a mesmerizing sight to see. This attractive natural setting, good climate and a lot of tourist attractions make it one of the most popular tourist destinations on the Croatian coast. Makarska has a long waterfront promenade with palm trees, bars and cafes overlooking the harbor, a great place to go for a walk and relax in the shadows while sipping your coffee.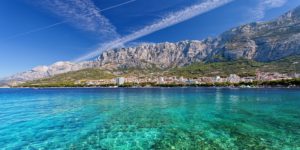 If you want to know more about buying property in Croatia click here.
If you want to plan your route to Makarska click here.
Read more about this property here Croatia Makarska renovated house for sale.