About this Property:
(C-RE-1)
Completely renovated old stone house in Seget Donji
Completely renovated old stone house in Seget for sale is a lovely old stone house that was completely renovated in 2013.  The house consists of three floors, the size of each floor is about 30 m2. On the ground floor there is one bedroom with a bathroom. On the first floor there is a kitchen, dining room and a bathroom. On the second floor there is a balcony with an amazing view at the Trogir bay.
The furniture is not included in the price, but includes two old, small, stone houses and 470 m2 of land which is located about 20 meters from the house.  The size of each small house is 20 m2. One of them was completely renovated in 2016.
THE PRICE HAS BEEN REDUCED FROM 155.000 € !!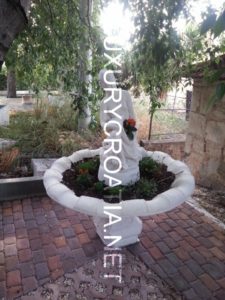 Completely renovated old stone house in Seget for sale
House is located in Seget, a place close to the town of Trogir. Trogir is a remarkable small town with 2300 years of tradition, set on a small island on the Adriatic coast of Croatia in the center of Dalmatia. Hiding not so far away from Split, only 27 km, it is connected to the mainland and with another island, Ciovo with bridges.The  historic city center is under the protection of UNESCO since 1997., recognized as a true example of urban continuity, an old town with a number of intact Renaissance and Baroque buildings  and churches from the Venetian period. You can really get a sense of the Mediterranean while sight seeing and wandering the narrow streets of Trogir, sometimes nick-named the town-museum.  Trogir is very well connected with the rest of the Europe through a good air network to  Split's airport. After you've reached Split, you can take a car or a bus, and you are in this beautiful old town within a few hours. You can also come with a boat, coming from the coastal cities of Italy, such as Ancona, Pescara, Bari or Venetia, and if you are coming to Trogir while cruising on your own boat, you will surely find a port for you to anchor in and enjoy, either the ACI Marina Trogir, Trogir Waterfront or on the island Ciovo waterfront.
Find here information about buying a property in Croatia –> Buying procedure, costs and fees