About this Property:
(AT-H-S1)
Attractive house for sale with a nice sea view in Seget
SOLD!
Attractive house for sale with a nice sea view in Seget on a nice location, about 300 meters from the sea. The size of the house is 70 m2 and the size of the land plot is 300 m2. There are three rooms. House was built in 1960 and it was renovated in 2015. The price also includes a covered parking space and a garden cottage.In front of the house there is a barbecue and garden furniture. House has a terrace with a nice, panoramic sea view. This could be a lovely vacation house, but it is also suitable for living all year long.
House is close to the town Trogir. There is a lot to see in such  a small place, so keep your eyes wide open while o  bserving what Trogir has to offer, such as a well preserved castle and a tower, palaces and cathedrals from the 13th century. The most notable  building may be the cathedral of St. Lawrence, with the portal of Radovan at the entrance to the cathedral being one of the most important and famous monument of the town. There is also a bell tower rising from the cathedral, making it the tallest building in this area. Don't miss the castle of Kamerlengo either, a castle and fortress built by the Venetians in the mid 15th century that is sometimes used for performances in the summer season. The Benedictine monastery, a thousand year old church of St. Nicholas in  Is known for obtaining the oldest painting in Trogir, the "Madonna with Child" as well as the Kairos collection. The rich heritage of Trogir is not the only thing to admire. The gastronomy here is similar to all Dalmatian cuisine, meaning that you will be able to enjoy plenty of healthy and light sea food specialties.  If fish is not your favourite, you will still be able to experience the Dalmatia's raw ham, prosciutto, sheep's cheese, roasted lamb and locally grown vegetables drizzled with wonderful olive oil and rocky salt.
Attractive house for sale with a nice sea view in Seget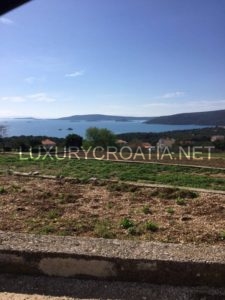 Information about buying a property in Croatia find here: Buying procedure, costs and fees