About this Property:
Chateau of Stone for rent Dubrovnik Area
(RE-V-DL-KD-01)
 Chateau of Stone for rent Dubrovnik Area – The villa consists of renovated old buildings taking a space of 2500 square meters, including accommodation facilities, swimming pool, big garden, woods with an old lookout and traditional wine cellar. The accommodation facility itself, consists of 2 two floors units, 160 square meters housing surface, with 9 -11 guests capacity, air conditioning.
First Floor
On 106 square meters space comprises a fully fitted kitchen, living room with fire place, two large bedrooms with bathroom (possibility of separate beds), one small additional room, utility room and washing machine. Beautiful different levels terraces, with pergolas surround the villa from behind and in the front.
Second Floor
Exterior stone stairs connect the second and the first floor, with terrace and pergola on the top. The 54 square meters large second floor comprises a nice living room and a kitchenette, twin bedroom, double bedroom, shower bathroom and a toilet (separately). The sofa-bed in the living room can be transformed in a pleasant and comfortable bed, for an additional two persons.
Ground Floor
Covered parking place for one car is situated in the ground floor, while in the front of the villa there are additionally four parking spaces.
The wide patio area consists of several terraces on various levels and a well-cultivated olive tree garden.
A big oak dominates the well-maintained park & woods area just behind the villa, surrounded by dense Mediterranean pine and cypress forest.
Beside the villa you can enjoy a big size swimming pool (8,50 x 4,0 m), nice sun-bathing terrace; privacy, rest and peace areas; as well as sanitary facilities. There is also a lovely terrace dining area with barbecue.
Wine Cellar in the same time marks the oldest part of the villa, dating to the 16th century. It invites to taste homemade red and white wines (extra cost). By prior arrangement with the host you also can enjoy and taste cuisine specialities of the Konavle region, but also buy top quality home-brewed wines, liqueurs, olive oil and sweets.
Other Facilities and Equipment: Comfortable outside furniture (terraces), safe, fire-place, air conditioning, bathroom with tub/whirlpool, extra beds for children (upon request).
Equipment: Kitchen range, oven, refrigerator, toaster, microwave, dishwasher, washing machine, TV, SAT, stereo, DVD, Internet
Services included in basic (rental) rates
• Water and electric power consumption
• Towel change three times a week (or as agreed)
• Bed-clothes change once a week (or as agreed)
• Toilet accessories • Whole facility final clean • Parking • Internet
Additional services / offer – extra charge
• Transfer from/to the Dubrovnik Airport
• Welcome pack • Breakfast, lunch, tasting of homemade wine, brandy, liqueur, and other local products
• Additional room cleaning, linen washing & ironing
• Bicycle use • Organized wine- and olive yard visits • Organized walking tours in nature
• Participation in peach & grape harvest, olive picking • wood for the grill
VILLA CHARACTERISTICS
• Property Surface: 2500 m²
• Villa Surface: 160 m²
• Built-in the 16th-19th century, renovated in 2009
• Swimming Pool: Yes [8,5 x 4,0 m]
• Parking: 4 Parking places outside, 1 covered
• Garden
• Terrace
• Barbecue
• Maximum persons capability: 9 + 2
• Twin bedrooms: 2
• Double bedrooms: 2
• Room with one bed: 1
• Extra beds: 2
• Bathroom / Shower: 1
• Bathroom / Bathtub: 3
• Toilet only: 1
Prices in 2020. per day in Eur:
02.01.-19.04. 217€
20.04.-10.05. 283€
11.05.-07.06. 330€
08.06.-21.06. 464€
22.06.-30.08. 517€
31.08.-13.09. 464€
14.09.-27.09. 330€
28.09.-11.10. 283€
12.10.-14.12. 217€
15.12.-03.01.- 283€
* 08.06. – 13.09. – Minimum stay 7 days
* Other periods minimum stay 3 days
*Tourist tax and VAT is included in the price.
Check-in: 16:00 pm
Check out: 10:00 pm
If you are looking to spend active holidays, we offer a variety of daily excursions, gastronomy trips, boat tours to the islands, water sports… find them all here: excursions.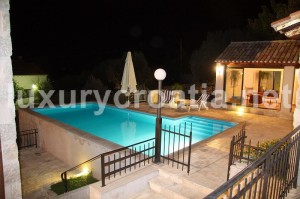 If you are interested in spending active vacations, check our offer here: Excursions, trips and adventure Sports