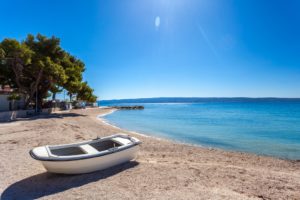 Why you should visit Croatia?
This question pop up from different travel portals, blogs, magazines, adverts…
Travelers from all over the world have reported about their reasons WHY they visited Croatia. But if you are ready to hear answers from locals, Croats (in Croatian: Hrvati), and discover some more details, here it is:
Croats are proud. They think Croatia (in Croatian: Hrvatska) is the most beautiful country in the world. Though it is small, it has it all. From mountains under snow where you can go for skiing – Velebit, Biokovo, Učka, Bjelolasica, green hills, vineyards and valleys of Zagorje, endless green fields of Slavonija, rocky landscapes of Dalmatinska Zagora, picturesque hills and olive orchards of Istria, to the most beautiful coastline of Dalmatia, with more than 1000 islands (one thousand)! Many of the landscapes are world famous, such as Plitvice Lakes, national park with 16 lakes cascading in many beautiful waterfalls, Kornati Archipelago National Park of hundreds of rocky islands forming extraordinary landscape and many others.
Croats keep tradition and care about their historic and cultural heritage. Croats are Catholics and respect all other religions. Many of Croatian historic and cultural sights are protected by UNESCO. History of this region dates back in time of Old Greeks, many of coastal towns and islands are named in Old Greek times, for example island of Korcula has original name Korkyra, island of Hvar was named after Greek island of Faros, town of Trogir was Tragurium, Split was Asphalatos. There is huge heritage from Old Greeks, which remains are preserved even today, for example on Hvar island is still visible field of Fora (Hora or Ager). This field is first known trace of geodetic measures. Old Greeks used geodetic methods to divide field so that each peasant get precisely measured part of the field to cultivate. Today this site is protected as UNESCO heritage. There are remains of Roman villas Rustica in this field. After Old Greeks, Romans were in coastal parts of Dalmatia and Istria. Example of Roman heritage is Roman Emperor's Diocletian Palace in Split which is completely preserved and reconstructed in its original shape. This Palace is probably the only in the world preserved totaly as it was in time of this Roman Emperor, who was born in Salona (today town of Solin, few kilometers from Split) and built this Palace in 3rd century! So this Palace is more than 1700 years old.
Croats inhabited this beautiful homeland in 7th century. Croatian homeland includes also Bosnia and Herzegovina. In Croatia lives today almost 4 million Croats. In Bosnia and Herzegovina lives about half million Croats, but all around world in different countries and continents lives about 3 million Croats.
 Croats take care of their environment, preserving nature, restricting construction (in locations out of the cities construction is restricted to maximum height of 10 meters or 3 floors), keeping good infrastructure, keeping air and water clean. Croatia is extremely rich in drinking water. In Croatia water from city pipeline is drinkable! Quality of the sea water is controlled every day in summer time on all main beaches in all towns on the coast and islands. It is always of the highest quality. Almost all beaches hold Blue Flag, meaning that sea water is clean. In summer time temperatures of the sea water are from 20 to 26 degrees Celsius, which is warm, and clean, and healthy to swim in the sea. Most of the beaches are protected from boat intruders therefore safe for swimmers. Also most of the beaches have beach watch and safeguard.
A lot more is there to explore about Croatia. The best is to visit Croatia and find all those beautiful things yourself. Unique experience is waiting, contact us for all details. Remember we are locals, Croats!
Some basic info about Croatian destinations you can find on our web.
If you would like to receive similar articles about Croatia, subscribe to our newsletter, or simply pop up on this website to read new articles or contact us for any info you need.
To make your trip to Croatia easier, there is road planner, very helpful tool with precise road map: Via Michelin