About this Property:
Waterfront land for sale Prigradica Korcula Croatia
This waterfront land for sale Prigradica Korcula Croatia has size of 580 square meters. Along the seaside this land length is 20 meters, and is 28 meters long,  it is possible to to build large villa with pool with panoramic sea view from the pool and from all rooms of the villa.
Electricity and city water connection are in front of the land. Prigradica center is about 1 kilometer away. There is local street between land and the sea, but there is almost no traffic and only few villas in the neighborhood. Stairs lead down to the sea. Shore is rocky but there is flat plateau for sunbeds. Land is inside construction zone and is possible to construct 1 large villa which could have 400 square meters of living area on 3 floors, with large infinity pool and fantastic panoramic sea view. This land is good investment for building modern villa that could bring great profit from tourist rental. Price for Waterfront land for sale Prigradica Croatia is 170 000 EUR.
Korcula the island of Marco Polo is one of the most densely wooded islands in the Adriatic. The landscape of the island of Korcula is enriched by olive groves and vineyards which represent a traditional source of life and income for the population of the island of Korcula.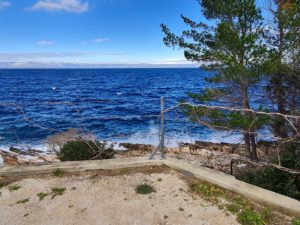 We are also tourist agency specialized in villas rentals so we can make you calculation of possible income per year for villa rental on this location. Read more about our tourist agency here.
Find your route to island Korcula here.
Find out more about island Korcula here.
Read more about this property here Croatia Korcula Prigradica waterfront land for sale.