About this Property:
(TR-K-1)
Traditional stone villa with a pool for rent Krk Island
Beautifull, stone Villa with 4 rooms and an outdoor swimming pool, it is perfect for a relaxing holiday. The Villa is decorated in a traditional way but offers anything that a modern traveller might need on vacation. There is a very nice dining area, a kitchen with a dishwasher and a spacious living room. There is also a beautiful terrace that offers a view at the swimming pool. On the shaded terrace, you can also find a dining table and it is a perfect place to relax in the summer weather.
Villa is located on the Island of Krk and it is about 30 km away from the town Opatija. There are 4 bedrooms in the house and sofa bed in the living room so total capacity of the villa is 10 people. 
Prices per day in Eur 2020.
05.01.-07.06. 240€
08.06.-21.06. 280€
22.06.-05.07. 310€
06.07.-23.08. 350€
24.08.-30.08. 310€
31.08.-13.09. 280€
14.09.-23.12. 240€
24.12.-05.01. 298€
Tourist tax is not included in the price.
The island of Krk is the largest island in Croatia, located in the northern Adriatic Sea, in the Kvarner Bay, just 30 km from the city of Rijeka. This island is a known and recognized tourist destination because of its mild Mediterranean climate, favourable geographical position and a wealth of diverse natural and cultural beauty, and from ancient days has been called " the golden island".
Because of its rich cultural heritage, Krk is even called the cradle of Croatian culture; in the early 20th century, it was also called the sixth continent. No matter how you decide to travel to the island of Krk, by car across the bridge, by boat or ferry (ferry Valbiska and Baska) or plane (Rijeka airport near Omisalj), rest assured that you will very quickly discover that this beautiful island is characterized by a unique diversity – a perfect blend of present and past shrouded in natural beauties that are simply breathtaking.
The island of Krk is really rich with beaches, from the popular tourist beaches like Drazica and Jezevac on the island of Krk, beach Rupa in Malinska, beach Pesja in Omisalj cove, bay beaches Kijac to those hidden beaches that are located in smaller towns such as Klimno Glavotok, Stara Baska.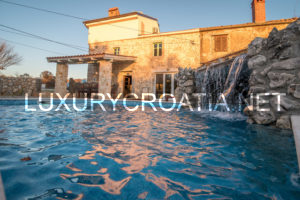 If you would like to know more about beautiful town Opatija, you can find the informations here: Opatija
And about Island of Krk, you can find the information here: Krk Island